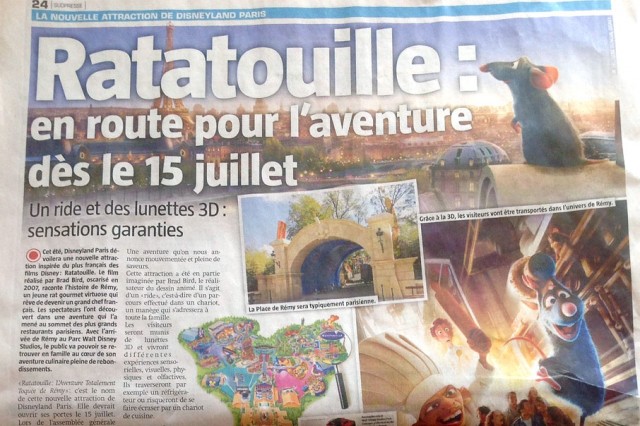 Ratatouille: The Ride will open, that's about as close as we can get to an official opening date right now. But today Belgian tabloid newspaper SudPresse appeared to break ranks by publishing an article (above, and in full below thanks to DlrpExpress.fr) which states quite clearly and confidently that the date will be 15th July 2014.
Upon closer inspection (or even from a great distance), it seems quite likely that this article hasn't been anywhere near the Disneyland Paris press department for authorisation — besides the author logging on to transcribe their latest press release.
Because though the text — date aside — sticks quite closely to the resort's official copy, the images do anything but. The map of Walt Disney Studios Park which appears to show the attraction is a widely circulated, fan-created image superimposing Epcot's France pavilion map onto the back of Toon Studio.
The concepts of a "Ratmobile", unearthed as part of the ride's planning application, have only ever been published publicly by the Disney Central Plaza forum, whose watermark can still be seen on the image. When it came to show the Ratmobiles during last month's shareholders meeting, Tom Fitzgerland had much more final, official-looking renders.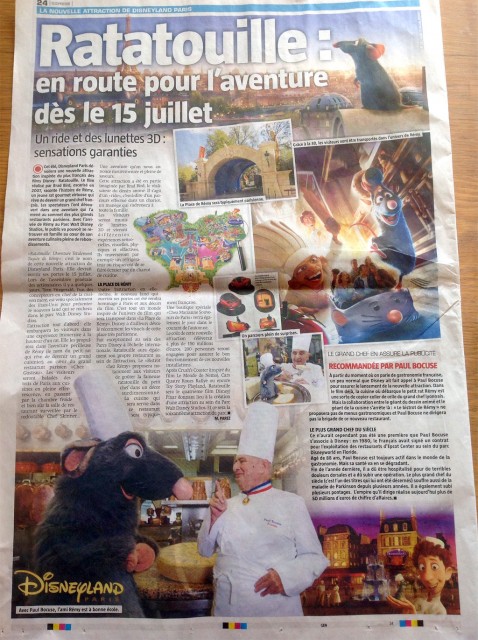 And finally, the photo of the tunnel with a bust of Chef Gusteau comes, uncredited, directly from fansite DLP.info, circa 2010, who weren't so lucky with their watermark — covered over by the newspapers own caption! There is no way Disneyland Paris would sign off the use of any of these images, so why would they give this publication an exclusive with a date?
SudPresse is apparently well known for such questionable reporting — a search even brings up an "exclusive" from June 2012, recirculating the fansite rumour of the time that a Spider-Man theme would replace Armageddon: Les Effets Speciaux.
What remains odd is that the paper plumped for Tuesday, 15th July 2014, when the most widely circulated rumour so far has been the 14th July — France's national "Bastille" day.
Bastille Day looks great on paper, of course: opening an attraction based on French love letter Ratatouille, plus an adjoining restaurant, with endorsement from Chef Paul Bocuse, at Disneyland Paris, on the French national day itself; the concept of such a thing is so French the whole of France might just implode.
But is one of the busiest days of the year really the best time to open such a desperately awaited new attraction? And would the French press (not to mention all the extra technical and support staff required for a press event) really want to leave their families and traditional celebrations to cover an event happening on 14th July itself? Besides, Disneyland Paris press events usually only take place over a Friday, Saturday, Sunday weekend.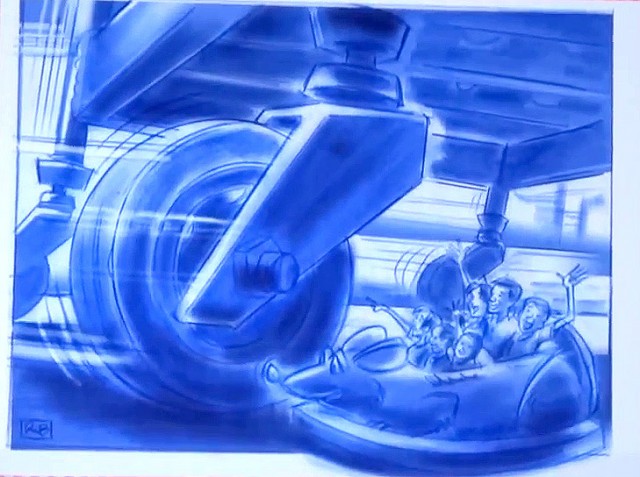 Elsewhere, one quite credible rumour has been that Cast Members could be given a preview of the attraction on Monday, 23rd June, followed by "Soft Opening" beginning on Saturday, 28th June. Soft Opening is the period of a few weeks where Disney opens new attractions for guests as a kind of "dress rehearsal", giving a chance to tweak the experience and spot problems without the attraction officially being "open".
Meanwhile June's park opening hours were published yesterday, with a couple of clues that something might be afoot at the Studios, as reported on DLRPMagic.com. Notably, Saturday 21st June sees the park close at 6pm, rather than the usual 7pm. Indeed, this the first and only Saturday of the year so far that the park will close at this earlier time on a Saturday.
Disneyland Paris wouldn't cut opening hours on a busy weekend lightly, so this must suggest some kind of private event — for Cast Members, for the press, for someone else? It's usually good manners to give Cast Members first preview of an attraction, so if this were to be a press event date for the opening of the ride, it might put that 23rd June date in doubt.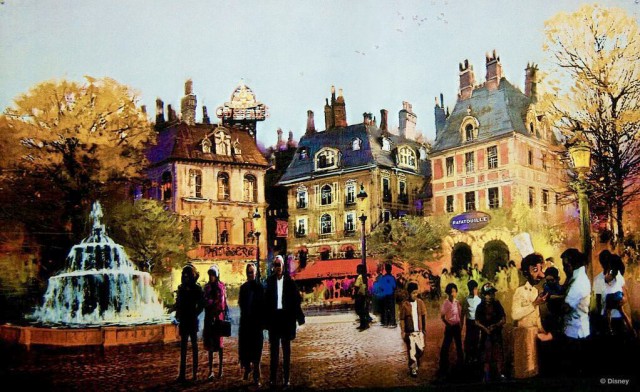 Late June would make a far more sensible date to assemble the press for a showy grand opening, though: before the French summer holidays (and abandonment of Paris) begin, and giving enough time for them to draft their footage, reports and articles in time for a big media push on… 14th July? This could be particularly successful outside of France where, rather than the usual samey Eiffel Tower footage, news reports could show the implosion of French-ness on La Place de Rémy as a perfect populist tie-in to the national date.
Disneyland Paris always separates its press grand openings from its public inaugurations. The Twilight Zone Tower of Terror, for example, opened to the public on 22nd December 2007 but didn't have its big grand opening event until 5th April 2008.
That would leave Bastille Day itself as more a simple ribbon-cutting date for the public; indeed, the date on paper — the date that goes down as the day Ratatouille: L'Aventure Totalement Toquée de Rémy finally, officially opened its doors. It'd be perfect. Even though, as is always the way with Disney attraction openings, it wouldn't necessarily be true.
At this point, it's really a shame Disneyland Paris won't just do the sensible thing and make an announcement, if only so that us fans can stop obsessing over a date, book our summer trips with confidence and start focusing instead on what a seriously cool and spectacularly unique new addition this is shaping up to be — perhaps the best thing to come to Disneyland Paris since the hallowed date of 12th April 1992 …or should that be 11th April?