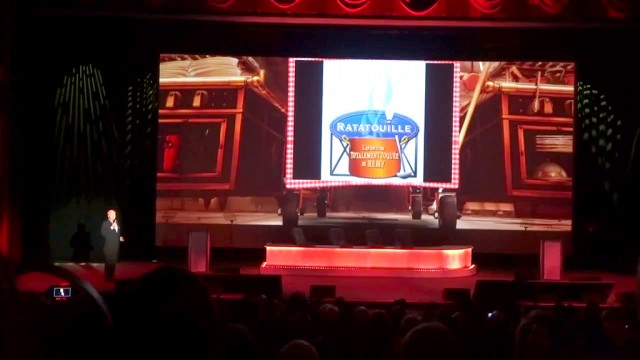 Besides the numbers, questions and voting, yesterday's Euro Disney S.C.A. Annual General Meeting had just one thing on the agenda: finally lifting the curtain — if only a smidgen — on the making of Ratatouille: L'Aventure Totalement Toquée de Rémy from a Walt Disney Imagineering perspective.
Doing the honours was Tom Fitzgerald, the Senior Creative Executive who has been closely involved with the expansion of Walt Disney Studios Park in the past ten years, particularly Toon Studio and Toy Story Playland. Brand new, previously unseen concept art, scale models and behind-the-scenes photos from the making of the attraction were all revealed for the first time in Tom's exciting five-minute presentation, finally satisfying the fevered desire for more information and visuals from the ride and restaurant amongst us fans.
Continues with video, 24 stills and full transcript…
Thanks to this perfect video from French fansite DLP Welcome, you can watch the whole thing online — then scroll down for our full transcript peppered with the most tantalising stills.
Tom starts with an incredibly competent introduction in French, before beginning…
OK Rémy, let's get cooking!

[Film footage of Rémy running through the wallspace, a huge kitchen trolley rolls into place]

You know, as with many of our most classic attractions, this attraction was based on a very classic film, and while Walt Disney may have said many times that "it all started with a mouse," in this case it all started with a rat. A rat named Rémy and a fantastic movie, Ratatouille.

Wouldn't it be fun we thought, as Imagineers, if we could join Rémy on a crazy adventure through the culinary world of Ratatouille. A seemingly simple question, and yet for the last four to five years our Imagineering team has been working diligently to bring that vision to life. But how do we do it? Here's a very short glimpse of some of the work that we went through to bring to life L'Aventure Totalement Toquée de Rémy.

Of course, at Imagineering and at Disney we always start with the story. And we spent a lot of time with our partners up at Pixar and with the director of the film to make sure that we could create a unique story for our attraction, and yet one that paid respect to the characters and the fun adventure of Ratatouille.

We worked very closely with Brad Bird, who directed the original film, and from there the next thing we do is we build a model — a scale model of the attraction that allows our team to really get down and view the attraction as you would view it when completed. We actually built this model with little ride vehicles, so we could actually ride through and see the point of view that you will have when finished.

Now once we've finished the miniature model, of course, it's time to go into production with the full-scale show elements. And of course because, in this attraction we are shrinking down to the size of a rat, everything we've been creating is enormous.

The leaves of Rémy's restaurant — there are almost two thousand leaves that we created and hand painted to bring the overscale of this attraction to life.

And of course, seats and tables that bring to life the fantasy of dining with Rémy in his restaurant.

The animation that you will see in the attraction was created uniquely for us, by our colleagues at Pixar, in 3D, in the largest scale they've ever created. And you'll see this all… very very soon.

To bring the attraction to life required us also to invent an entirely new ride system, a ride system that will allow you to travel through these enormous sets in silent comfort. We call them "Ratmobiles" and six passengers will travel in each rat. These vehicles will allow us to do things we've never been able to do before, it's an entirely new ride system for Disneyland Paris.

Now of course while we were busy creating the attraction inside, our architectural team was very busy creating the Paris of Ratatouille for the exterior. We built scale models that will allow our team to understand the charming fantasy scale of Paris as envisaged in the film. We created elaborate colour boards that allowed us to paint and colour every detail that you will see.

Now, over the last two years, what was very simple to do in models and art has been coming to life here…

[Timelapse video of ground construction]

…And I wish we could actually build that fast.

Now we know that you love to find the hidden details within our lands, and so in Place de Rémy you will find many many details from the movie for you to discover. In architectural elements, in the sculpture of our fountains, and even if you look very closely, in the railings of the fences. Little hidden Rémys to delight everyone.

Now, le petit chef. Of course, if we're going to do a Ratatouille attraction, we must do Rémy's restaurant, and so we will be bringing to life not only the adventure but also Bistrot Chez Rémy, where you can join Rémy for a delicious meal in a super fun and fantasy overscale environment.

So, that's a very small peek at what's in store for you very very soon.
Bringing this section of the meeting to a close was — mais bien sûr — the obligatory musical character performance, this year with both mice and rats.
So there we have it — whew! — ride concept art, restaurant concept art, exterior models, interior maquettes, colour diagrams, Pixar animation, giant props, Brad Bird looking happy, ride vehicles and a construction timelapse. We'll probably return to these images for a closer look and analysis of the finer details after we've managed to digest it all, so until then — enjoy!
(You're going to scroll back up and look at them all again now, aren't you?)