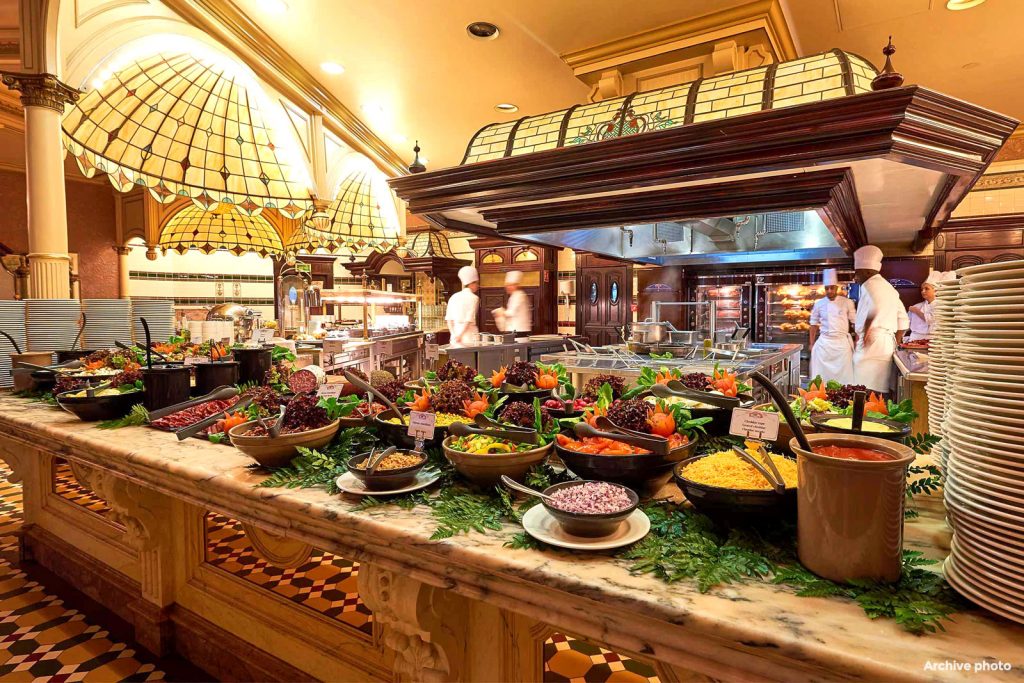 Disneyland Paris is beginning the next stages of easing its Covid-19 regulations and requirements across the parks and resort, including removal of physical distancing and reintroduction of standard all-you-can-eat buffets.
From 20th October 2021, all the resort's buffet service restaurants will be back to their original form, allowing diners to go and choose their dishes from the buffet counters themselves.
Since the reopening of the resort post-Covid lockdowns, all buffets have been operating with a basic menu of set dishes. Guests could pick as many as they'd like and have them brought to the table.
The change will affect Plaza Gardens Restaurant and Agrabah Café in Disneyland Park, La Grange at Billy Bob's Country Western Saloon in Disney Village and the buffet restaurants at each of the currently operating Disney Hotels.
Distancing distanced
An even more major change across the resort is already underway: physical distancing requirements have officially been removed from the resort's Covid-19 health and safety measures.
Gradually, the countless hundreds (thousands?) of floor markers which have littered both parks during the reopening eras are now being removed.
In truth, as the parks have become busier, distancing has become difficult for those who try and totally ignored by those who don't. With the parks covered by France's Health Pass system since 21st July, proving guests are fully vaccinated or have a recent negative test, it feels a sensible time to move forward on this.
Face masks remain a requirement. The resort's advice states: "To promote the health and safety of guests and Cast Members, guests aged 6 and older will be required to wear a protective face mask at all times, in Disney Parks, Disney Hotels, all indoor locations at Disney Village and Golf Disneyland.
"Guests can temporarily remove their masks only when eating or when taking a picture at designated outdoor Selfie Spot locations. All Cast Members and third-party operators will continue to wear face masks in all indoor and outdoor locations across the resort."
After rising sharply in late July, Coronavirus cases in France have dropped to a 7-day average of 4,649, compared to a 7-day average of 42,123 in the United Kingdom.
UK travel requirements changing
Thinking of travelling from the UK to Disneyland Paris? The government's official page has all the latest info.
In brief: if you're fully vaccinated it's pretty simple to get into France with proof of your vaccination status and a "sworn statement" that you've no symptoms.
Returning home to the UK remains more effort and expense, despite the figures above. But here there's a step forward ahead too: instead of the costly PCR tests, from 24th October 2021 you can take a cheaper lateral flow device test for the "day 2" arrival test.