You got a genie for your charge d'affaires!
Thanks to his resounding success in Disney's Aladdin, the Genie has made the leap from actor to director, and he wants to put YOU in the picture with his high-flying film set in the skies above Agrabah.
The only ride in Toon Studio not to be based on a modern Pixar film, Flying Carpets Over Agrabah is as classic a Disneyland experience as you can get: Sixteen rising and falling magic carpets, circling a golden lamp centrepiece.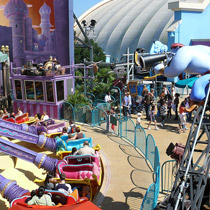 Riders pass through a "backstage" area littered with props and film equipment before arriving "on set" in front of the giant, colourful Agrabah backdrop. The attraction mixes touches of Middle Eastern influence which wouldn't be out of place in Adventureland with less attractive, industrial studio sets and props to fit the conceit that this is a working film set.
In some ways this feels like a not-so-subtle way to save money on more expansive landscaping, but it does put a unique "spin" on the concept and hardly affects the actual ride experience.
A regular, fun aerial carousel, this is also a great alternative if the lengthy queues for Dumbo the Flying Elephant over in Fantasyland don't appeal.