Grab shell, dude!
Jump aboard a spinning turtle shell, ride the rocky currents of the EAC and surf along with Nemo and Squirt on a thrilling "undersea" ride...
Opened in June 2007 as part of the first Toon Studio expansion project, which included Cars Quatre Roues Rallye along with the renaming and enhancing of the original land, this attraction is entirely unique to the park and one of the most instantaneously-popular Disney rides in recent memory.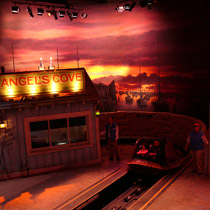 Walt Disney Imagineering worked for the first time with German company Maurer Söhne, taking their popular Xtended SC-2000 roller coaster model and elaborating upon it to such an extent that its' origins are truly invisible to the visitor.
The coaster itself is housed within the vast walls of Studio 5, occuring largely in darkness with merely projection effects of bubbles. For fans and frequent visitors the attraction is often a point of contention — its rather limited capacity not holding up to immense popularity, nor overall themeing and attention-to-detail being quite as lavish as you might expect from Disney for what has become — whether the Imagineers (or rather, budget-eers) — intended it to be so, a major, must-see ride.
However, the attraction scores well on enough points to ensure it is both hugely convincing, feeling truly as if you're coasting and swirling through undersea currents, and incredibly good fun — just look to the never-ending lines for proof.