We're at code red! Repeat, code red!
Build your stamina as a recruit of the Green Army Men in a towering rise-and-drop freefall parachuting exercise.
Based on that famous scene in the original Toy Story when the Green Army Men parachute through the stair banisters to investigate Andy's birthday presents, Toy Soldiers Parachute Drop is now easily the most popular attraction in the Playland.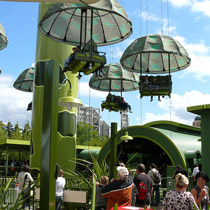 Positioned neatly between the tame Slinky Dog Zigzag Spin and thrilling RC Racer, this attraction has the benefit of both anchoring the entrance to the land and towering 80 ft high above the entire park. Toy soldier recruits are hoisted up to the top of the tower in 6-person "parachutes" before tumbling back down to earth in a series of rises and falls that offer an unrivalled view over the oversized surroundings.
Fun touches around the attraction include a giant Playskool walkie-talkie, which momentarily bursts to life with updates on Andy's presence, a "plastic" look-out tower dug down into the sandy ground and an army base complete with human-size accessories and soldiers which look as if they've been cut from a plastic mould kit.
Whilst the industrial look of the tower itself did not win many fans when it appeared on the skyline, the ride has fast become a staple of the park and, by the looks of it, a rite of passage for many young Toy Story fans, delighting at the world's biggest toy soldier playset.