That door is opening once again...
Amid the glitz and the glamour of Hollywood at the height of its golden age, The Hollywood Tower Hotel was a star in its own right. But something happened. Something dark. Something unexplainable. Something terrifying. And it's happening once again. But this time… It's happening to you.
It may have taken almost six years and over 180 million Euros, but late 2007 finally saw The Twilight Zone Tower of Terror become the centrepiece of Walt Disney Studios Park, transforming a desolate plot reserved in the heart of the park and providing an icon, a thrill and a feeling that couldn't have been more perfectly matched to its location.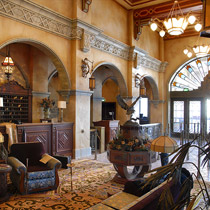 For fans, the arrival of the classic attraction, first opened in 1994 with a very different exterior style at Disney's Hollywood Studios in Florida, was never any secret. But, for year after year, the land lay bare as the resort's financial problems continued. The tower almost looked like it could be lost to the same Twilight Zone of Rod Serling's 1959 television series which inspires the ride's story.
And what of that tower? It is perhaps one of the greatest Disney attraction of the modern generation; heaping and piling an unbelievable level of storytelling, history and ambiance into every corner. You will simply not believe this "hotel" only opened in 2007 — from the fantastic "Bellhop" Cast Members to the cobwebs, abandoned luggage and creaking boiler room, it's steeped in history... and still alive.
Then, to truly "top" it all, the thrill of a faster-than-gravity drop of around 160ft and some bewildering, ghostly special effects. Unmissable.