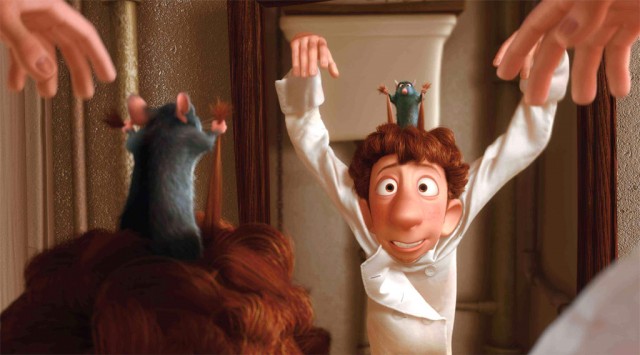 Could Alfredo Linguini, Rémy's human accomplice, be on his way to La Place de Rémy this year, too? Disneyland Paris recently posted an audition notice (below) on its official Casting website calling for actors to interpret the Ratatouille role "as part of a new project".
Auditionees are required to have a "strong artistic presence" and "lots of energy", as well as measuring a precise 1.73m to 1.85m tall. A good level of English is required as well as French, plus a definite ability to improvise in the role, son of the late Auguste Gusteau.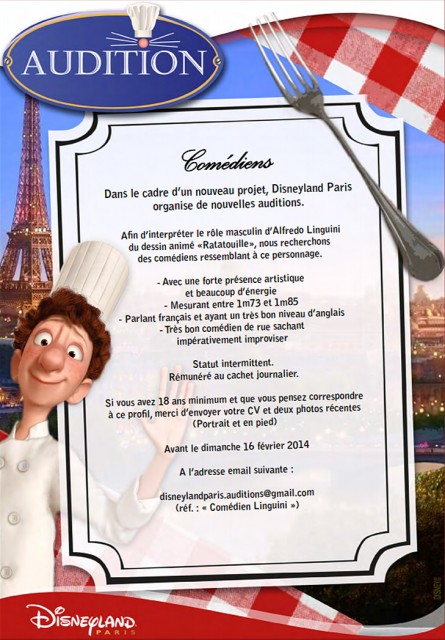 Applications were to be received by 16th February, but the casting notice doesn't give any other dates. Often these notices will give a rough idea of employment dates for the roles being cast. So, as well as not giving any clues as to the attraction's definite opening, this can't tell us whether the role of a live Linguini could be a regular feature around the new attraction or perhaps just a one-off for the grand opening ceremonies.
Nevertheless, a Linguini "face character" would be another first for Disneyland Paris and Walt Disney Studios Park in the world of Disney parks. Up until now, only Rémy and Emile have become park characters, being regular favourites of Disney's Stars 'n' Cars in particular.
Meanwhile, in other online Ratatouille: The Ride news, the first mention of the attraction recently slipped onto the official Disneyland Paris website, on the main Walt Disney Studios Park page: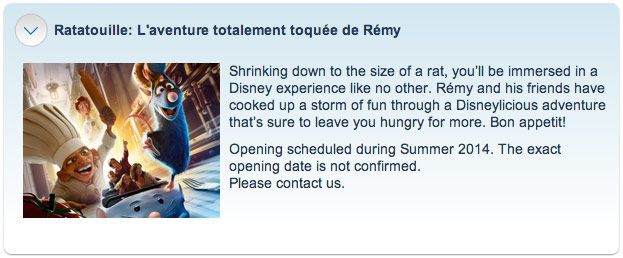 Helpfully, the small feature box states: "The exact opening date is not confirmed. Please contact us." It also surprisingly lists the name of the attraction as its full L'Aventure Totalement Toquée de Rémy moniker, no doubt infuriating for those Disney marketeers who probably spent fifty board meetings deciding on just calling it "The Ride" for all English advertising.
• Catch up on all our Ratatouille ride news and rumours here!