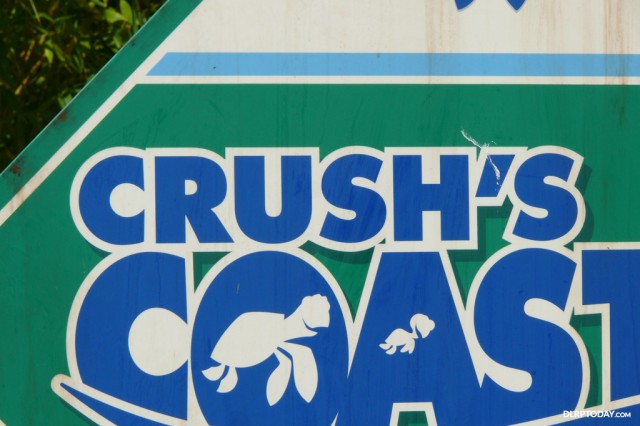 Remember when Crush's Coaster opened in 2007 and immediately couldn't cope with demand? Well dudes, almost seven years later something permanent is finally going to be done about the capacity-starved Toon Studio coaster's popularity.
During its four week closure from 17th March to 11th April, Crush's Coaster will reportedly see the addition of a permanent Single Rider line, as well as an expansion of the regular queue line itself, something fans including ourselves have requested since opening.
Cast Member sources Pretty Wyatt, AnonyMouse and DynastyGo on Disney Central Plaza forum report that two options were presented to improve the standard queue line: making permanent the temporary ropes which wind their way in front of Flying Carpets Over Agrabah, and/or a genuine enlargement of the exterior queue area into what is currently "backstage".
Thankfully, the second option has apparently been green-lit, leaving the installation of more permanent barriers around the Flying Carpets "oasis" area as an added possibility.
This is great news for visitors joining the queue and the area as a whole. The temporary ropes constantly clog up what is already a cramped portion of the land, especially now guests are also heading through to Toy Story Playland and soon to La Place de Rémy. Making the outside queue area at the side of Studio 5 bigger would be a long-overdue decision.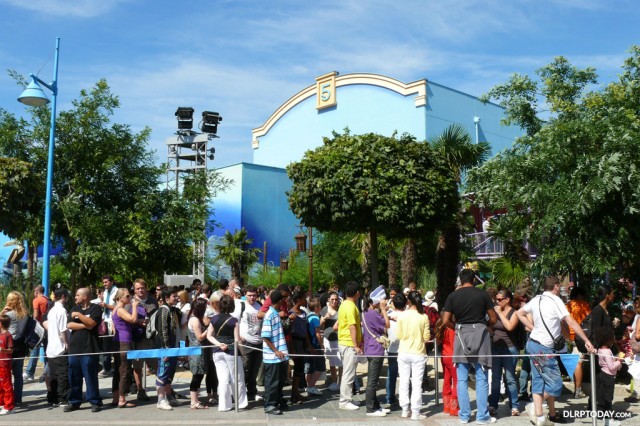 Single Rider is also absolutely the right choice to maximise capacity of the ride. We reported in-depth on the Crush's Coaster Fastpass tests in 2008, quickly proven unworkable for a ride with such low capacity. Fastpass can obviously never add capacity to a finite ride, whereas Single Rider can at least maximise capacity to as close to 100% as possible, filling every empty seat in groups of odd numbers. Both Toy Soldiers Parachute Drop and RC Racer now work successful, permanent Single Rider lines, and one is planned for Ratatouille right from the start.
In fact, it's probably Rémy we have to thank for this long-awaited improvement. With all the new guests expected to flock to Walt Disney Studios Park for the E-Ticket dark ride, some will inevitably also help to make the Crush's Coaster queue longer. Leaving things as they are, with even longer queues spilling out into the street, would not present a good image.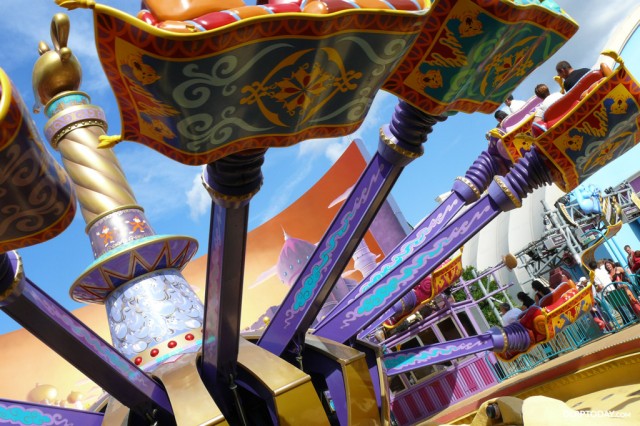 In similar fashion, we've suddenly seen the front of Animagique get some paint work (if not enough work). And, from 14th April right through the whole of May at least, Flying Carpets Over Agrabah will be closed for a thorough top-to-bottom refurbishment that will reportedly see the aerial carousel completely dismantled and rebuilt, just as its cousin Orbitron – Machines Volantes has enjoyed at least twice in recent memory.
That's a lot of very welcome spit and polish ahead of the land's newest ride opening. (Let's just pretend the un-themed pathway behind Art of Disney Animation doesn't exist, shall we?)