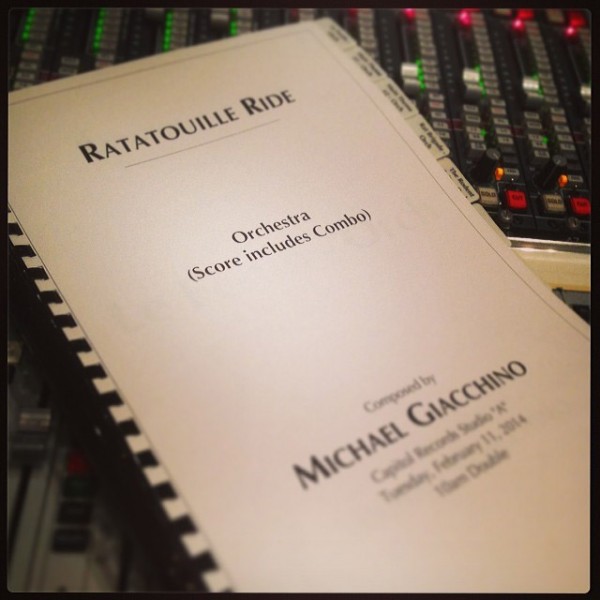 Here's a tweet, and an Instagram, to make any Disneyland Paris fan's day: Michael Giacchino, original composer on the 2007 film, is working on the Ratatouille ride score for Disneyland Paris.
Not thinking about it, not wrapped and done, but recording it right now on Tuesday, 11th February 2014 in Capitol Records Studio 'A', Hollywood, California, as evidenced in the above photo.
The front of the music booklet simply reads "Ratatouille Ride – Orchestra (Score includes Combo) – Composed by Michael Giacchino". Clever positioning of a blur filter means the only words legible on the tabs at the side, likely denoting scenes of the ride, are "Rat Brigade" and "The Rodent".
After 2004's The Incredibles brought his talent into the spotlight, Giacchino has consistently returned to Disney and Pixer, composing the scores of Up, Cars 2 and John Carter amongst many more short films. Also known for both recent Star Trek movies and two Mission: Impossible movies, he will be reunited again with director Brad Bird on the currently in-production Tomorrowland.
Elsewhere in Disneyland Paris, he even provided the music for Space Mountain: Mission 2.
His best work though, is perhaps genuinely Ratatouille. Racing and sprinting where it wants to be, sweet and soul-lifting when it needs to be; oh-so-French but not so French to be cliché. Giacchino's involvement in L'Aventure Totalement Toquée de Rémy is a seriously exciting seal of movie authenticity for the first dark ride of Walt Disney Studios Park.