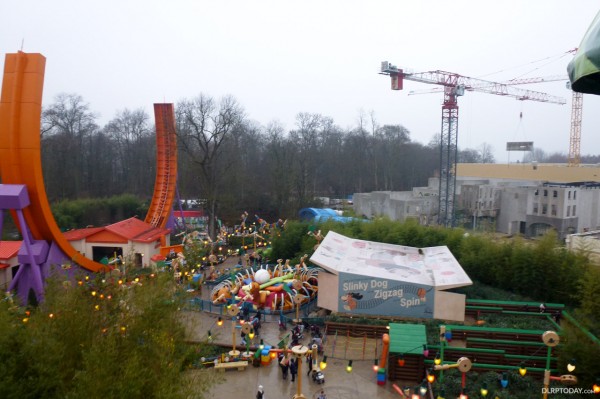 Farewell, Rémy and Emile! Only a year ago it was a cleared parcel of earth at the back of Walt Disney Studios Park, today it's an enormous shell of a showbuilding to envy the "it's a small worlds" of the Disney Park world. Work on the Ratatouille dark ride celebrated another milestone last week as the two towering cranes we nicknamed Rémy and Emile were gradually taken apart and removed from the site and construction entered a new phase.
New photos were shared by @InsideDLParis over the weekend and our friends at Photos Magiques earlier posted a nice high-resolution zoomable image from their January trip.
However, as we return from an all-too-long hiatus, let's first jump back to share some photos from our trip in December 2012. Keen-eyed Rémy fans will be able to spot many further changes in the past eight weeks, but for those who haven't been watching and for the sake of history it seems a shame not to pin these onto the construction timeline before moving onto current developments, so here we go…
Rumoured to have the working title Ratatouille Kitchen Calamity, this major new "dark ride" is due to open in 2014 at the back of Toon Studio in Walt Disney Studios Park, next to Toy Story Playland and the backstage 'Imaginations' Cast Member building. Construction has required felling a large number of trees and moving the resort's costuming workshop.
Also including a new restaurant integrated into the attraction, toilets and a Fastpass system, the development is costing up to €150 million. The ride itself has been rumoured to utilise everything from "trackless" ride vehicles to giant 3D projection screens in order to simulate a chase through the kitchens of a Parisian restaurant.
The exterior will be themed to a real Parisian square, complete with fountain.
Follow @DLRPToday on Twitter or 'Like' our Facebook Page to follow developments through 2013!