From the Earth to the Moon was only the beginning.
The mighty Columbiad cannon has been recharged to send you soaring further, faster and stronger than ever before, as you prepare to write a whole new chapter in Jules Verne's spectacular vision of space travel.
It's remarkable to think that the Space Mountain we see today, with its Steampunk beams, neon spires and smoking cannon, is actually a dramatically cut-down version of the Discovery Mountain which was originally planned to fill a huge patch of Discoveryland.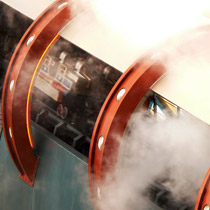 While that more volcanic-styled mountain would have housed a roller coaster merely as the pièce de résistance, on top of an indoor lagoon housing a Nautilus restaurant and many more lost treasures, the debt-stricken Euro Disney of the early '90s ended up relying on this purer Disney classic and the meticulous vision of Imagineer Tim Delaney.
Opened in 1995, Space Mountain: De la Terre à la Lune gave the freshly-renamed Disneyland Paris a thrill ride of worldwide significance. The first roller coaster to have a fully-syncronised on-board soundtrack, the first Disney coaster to feature multiple inversions and the first Space Mountain to posess a dramatic cannon launch (still unique to this day thanks to its 32-degree incline), all wrapped up in a 130-year old French science fiction fantasy.
Scoring rave reviews, it put the Parisian park firmly on the map and can rightly be credited with dramatically reversing the fortunes of the resort. In 2005, seeking a similar boost after several more years of declining business, the attraction was relaunched as Space Mountain: Mission 2. While some improvements such as a longer launch and more impressive internal effects progressed the experience, the generic modern music and vague "edge of the universe" destination ultimately removed much of the soul which made the 1995 original feel more than just a thrill ride, but a piece of history. Perhaps, one day, history will rewrite itself yet again and the beaming face of the Moon will come back into view...
Space Mountain: Mission 2 is now currently operating as Star Wars Hyperspace Mountain, taking you on a thrilling rebel mission.