Take flight to the island at the top of the world!
Take a break from the action with a chance to enjoy some popular Disney and Pixar animated shorts on the big screen at CinéDisney, or dig into a snack at Café Hyperion before your dirigible flight departure is called!
After an illustrious first fifteen years of productions, the curtain looks to have come down on Videopolis Theatre, at least for the time being. Beginning life in 1992 as the beating heart of Discoveryland, it was imagined as a vast theatre entertainment complex which would present the hyperactive, high-tech (and very hip) Rock Shock show during the day before turning into a huge discotheque at night.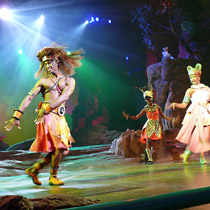 Soon enough the venue was pulled into the turmoil of the park's poor early finances, its original production cancelled after just one year and replaced by an immensely popular and well-marketed stage show version of Beauty and the Beast, the animation which was meant to have seen its very own, permanent theatre attraction built in Fantasyland.
In 2004, the stage was again in the spotlight, hosting another big-budget stage show with The Legend of the Lion King, a truly stunning 30-minute musical adaptation of the film utilising countless special effects and a sensational cast of Broadway-quality vocal talent. Alas, such a large and widely promoted show caused major headaches in the small, 400-seat venue, with a temporary Fastpass-style system seeing guests camping out hours for tickets.
As interest began to wain, it was decided the expensive show was no longer cost-effective for the comparitively small venue. In January 2009, the cast bowed out with their final roar.
After several years of inactivity, only hosting Disney short films and occasional live music performances, the stage suddenly sprung back to popularity with the launch of Jedi Training Academy. The rockwork of The Lion King now largely forms the basis of this Star Wars-like landscape, with several new stage setpieces.
Current Productions
Past Productions
Jedi Training Academy (2015 – 2017)
The Legend of the Lion King (2004 – 2009)
Mickey's ShowTime (2003 – 2004)
Minnie's Birthday Surprise (2002 – 2003)
Mulan - La Legende (1998 – 2002)
Disney Magic Forever (1998)
Disney Classics - The Music and the Magic (1998 – 1998)
Beauty and the Beast (1993 – 1996)
Rock Shock (1992) (1995)
Other Events
CinéDisney (2010 – 2015) (Disney and Pixar shorts)
Cinéma Mickey (2009 – 2010) (Classic Mickey shorts)