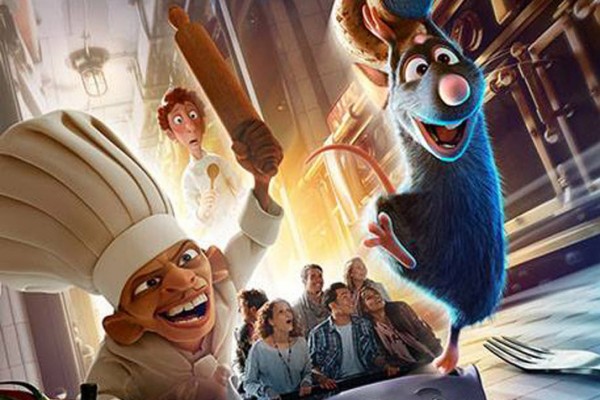 Happy New Year! It's officially 2014 at Disneyland Paris and we've got the perfect reason to celebrate. This is the year Walt Disney Studios Park welcomes a brand new, world-exclusive dark ride, Ratatouille: L'Aventure Totalement Toquée de Rémy, and today is the day — midnight precisely — our embargo is lifted on a new official press release for this eagerly-awaited attraction.
Disneyland Paris published a press release finally announcing the attraction back in February, but since then we've been given an official name and an exciting marketing visual. Today's press release for "l'Aventure Totalement Toquée de Rémy" therefore is the first to really get the attraction's concept (much-discussed and well-known in fan circles) into official print… along with the all-important final names for its adjoining restaurant and shop.
The world of Ratatouille comes to Disneyland Paris in 2014

Next summer, Disneyland Paris will unveil a major new attraction and mini-land inspired by the Oscar-winning Disney•Pixar film Ratatouille. The film, directed by Brad Bird, tells the tale of Rémy, a young rat who has amazing talents in the kitchen and dreams of one day becoming a great chef.

This leads to a fun but perilous journey that eventually lands him as the head chef of one of the most famous restaurants in Paris. Now Rémy has arrived at Walt Disney Studios Park to share his culinary delights and crazy adventures with the entire family.

On the attraction Ratatouille: L'Aventure Totalement Toquée de Rémy, guests will shrink down to the size of a rat and join Rémy and his friends as they scurry through the kitchen, dining room, and walls of Gusteau's famous Parisian restaurant, all the while trying to avoid the nemesis from the film, Chef Skinner. This first of its kind Disney attraction will immerse guests into an animated world like never before as they experience what it's like to be a rat in a human sized world.

The attraction is located in a new corner of Toon Studio that's been transformed into a Ratatouille-inspired version of the City of Light. In addition to the attraction, this mini-land also features a shop, Chez Marianne Souvenirs de Paris, and a rat-scale themed table service restaurant, Bistrot Chez Rémy. The restaurant, which is the only one of its kind across Disney Parks worldwide, is directly adjacent to the attraction and serves the "little chef's" famous dish, ratatouille.

After Crush's Coaster, Cars Race Rally and Toy Story Playland, Ratatouille will be the fourth attraction at the Walt Disney Studios Park inspired by a Disney•Pixar film. Disneyland Paris will once again combine its narration skills with state-of-the-art technology to offer the best possible experience.

Next summer, join us for Ratatouille: L'Aventure Totalement Toquée de Rémy, only at Walt Disney Studios Park, Disneyland Paris.
So that's "Bistrot Chez Rémy" for the restaurant, located in the same building as the ride, and "Chez Marianne Souvenirs de Paris" for the boutique, located next door in part of the former costuming workshops. The whole Parisian quarter at the back of Toon Studio has come along remarkably in recent months, its finely detailed façades now rich in colour and life.
If only we could take a peek inside those walls…
The attraction and restaurant open Summer 2014, with the boutique following in Autumn 2014.
Explore our past news articles here!