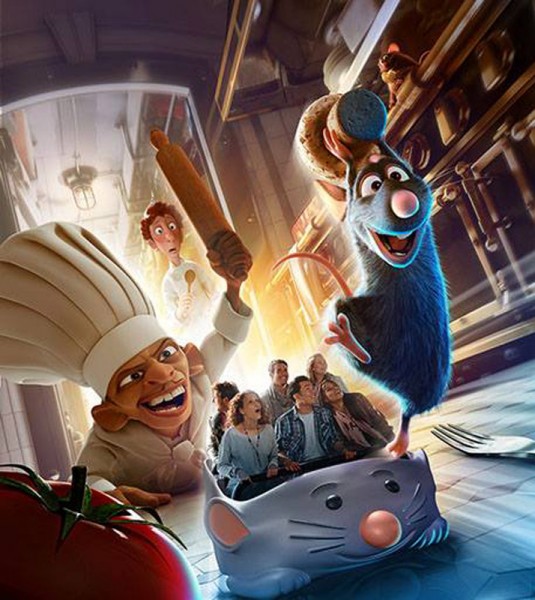 Looking for the biggest Disneyland Paris breaking news this year? Here it is. "Ratatouille: L'Aventure Totalement Toquée de Rémy" will be the full official title of the resort's much-anticipated 2014 attraction and what you see above is the very first marketing visual for this 150 million-euro Walt Disney Disney Studios Park dark ride.
Confirming key details about the ride system, design and story which have been rumoured at length since as far back as 2008, the image and information was first shared by Disneyland Paris itself in unprecedented posts on its official Facebook and Twitter accounts earlier this evening.
Picturing Rémy, the lead rat in the Brad Bird-directed 2007 Pixar animation, jumping forward holding a cork, it depicts a rounded, flattened, rat-shaped ride vehicle capable of transporting six guests. Behind, the fiery chef Skinner looms over with a rolling pin — no doubt an example of the huge video projection effects expected to be demonstrated within the vast new showbuilding at the back of the park's Toon Studio, next to the existing Toy Story Playland, to be augmented with larger-than-life physical props.
As for that long-winded title, don't despair — it may yet prove to be a moniker only seen in French promotions, or right at the entrance of the attraction. Disneyland Paris has past form with the rambling "La Tour de la Terreur: Un Saut dans la Quatrième Diménsion" (The Twilight Zone Tower of Terror) and even the nearby tongue twister Cars Quatre Roues Rallye, which was always promoted to English-speaking markets as "Cars Race Rally".
One final piece of information: 2014. That's still as specific as Disney will be with the projected opening date — though many would expect it not to be early in the year, despite the rapidly-materialising Parisian street scene, given the technical complexity of the world-exclusive ride experience within.
• Nourish your memory with our Ratatouille dark ride news archive, including the first piece of "real" exterior concept art and the official announcement from February this year