Rendez-Vous des Stars Restaurant may well still be the highest class restaurant at Walt Disney Studios Park, and only a buffet restaurant at that, but this Summer it gained one significant selling-point that is sure to win over even the most stubborn critic — a new chef.
The Stitch Phone, Lucky the Dinosaur, Turtle Talk with Crush, Muppet Mobile Lab, Stitch Encounter and Monsters Inc. Laugh Floor… It's funny to think that Walt Disney Imagineer's latest creation has arrived exclusively at this humble Production Courtyard eatery, just a few metres from their last installation — Stitch Live!.
Now, since the Imagineers have stayed true to the film, Chef Rémy doesn't talk directly to you — he merely squeaks. But, as this cute little Audio-Animatronic sways from side-to-side to the tune of "La Vie en Rose" (also note the Pixar connection to WALL-E) or even jabs his pointed nose left and right to a modern disco song, your heart will melt…
Rémy is not only the exact, perfect size he should be, the Imagineers have clearly used the actual computer models from Pixar incredibly well.
Look closely at his face, the drawn-out body and particularly his eyes, and this is almost as good as stepping inside their computers alongside the real thing.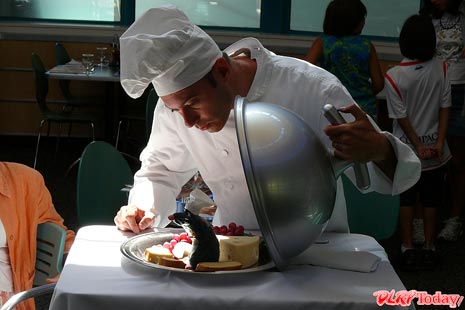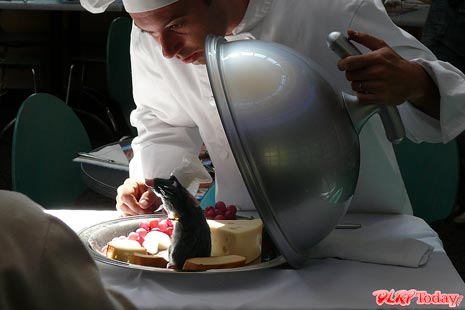 Only Disney and Pixar could create a turn of events that has them pushing a rat on a trolley around the tables in a restaurant, to smiles of delight from guests…
Could it be a test for the rumoured future Ratatouille attraction in Toon Studio? Perhaps. What it does prove is that Walt Disney Imagineering can create incredibly small, life-like animatronics that hold up remarkably well to close viewing.
We aren't zooming by this one on a mad-dash dark ride or splashing by on a boat with plenty else to distract us. Chef Rémy is there, on the platter in front of us, with kids getting as close as possible, right up to his face, and he still seems real.
Real and incredibly cute.
[Pictures & Video: DLRP Today.com]
— The video above is also available to download via the DLRP Magic! Video Podcast.