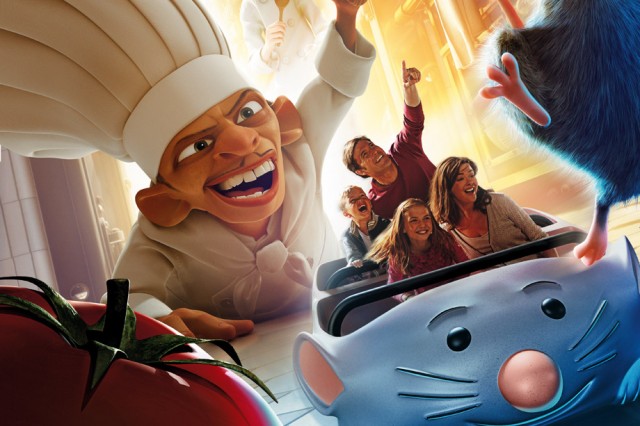 Disneyland Paris continues to maintain something of a general radio silence on development of Ratatouille: The Ride, now potentially opening in just four months or less, but a few tidbits of information at least have just trickled out in two pieces of official copy.
For travel agents in the United Kingdom, and published here for the very first time, the resort has just provided a brief snippet of standard copy for the attraction. Despite the usual fluff of these texts, it does reveal and confirm a few interesting facts:
Ratatouille: The Ride

Shrinking down to the size of a rat, you'll be immersed in a Disney experience like no other. Rémy and his friends cook up a storm when Chef Skinner sends you scurrying through the sights, smells and senses of Gusteau's restaurant. Duck, dive and dodge your way through a Disneylicious adventure that's sure to leave you hungry for more.
First, that the attraction will include "sights, smells and senses" — hinting that your ride through Gusteau's restuarant will be peppered by the scents of food and cooking along the way.
This wouldn't be the first time Disney have used scents in one of their attractions, indeed areas ranging from Pirates of the Caribbean to Cable Car Bake Shop are "odourised" to enhance the setting or tempt you in for that doughnut.
But for Ratatouille, scents would likely be a much more overt part of the scene rather than subconscious. Indeed, if Walt Disney Imagineering are going to do a fully immersive Ratatouille ride, they really have to do cooking aromas.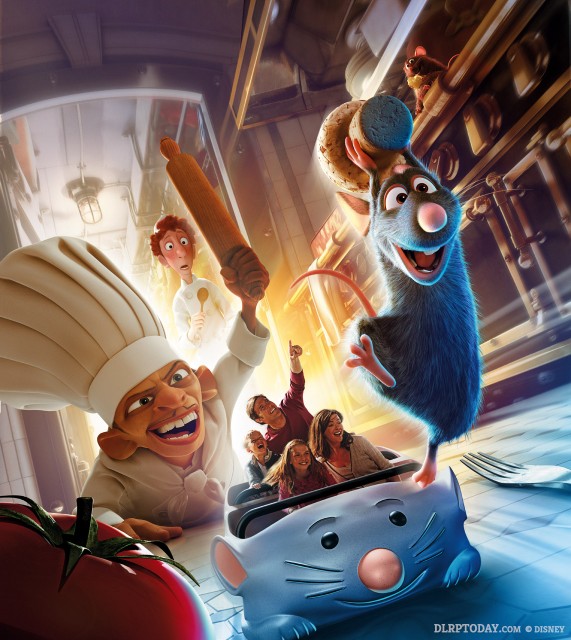 There's also now an amended French press release, which describes the scenes and storyline of the ride in a little more detail:
La 60ème attraction de Disneyland Paris se nommera donc Ratatouille: L'Aventure Totalement Toquée de Rémy. Elle embarquera les visiteurs dans une expérience immersive… à la hauteur d'un rat ! Ils seront propulsés dans l'aventure périlleuse de Rémy, au cœur du grand restaurant parisien « Chez Gusteau », imaginé par le réalisateur Brad Bird. Des toits de Paris aux cuisines en pleine effervescence, en passant par la chambre froide et bien sûr la salle de restaurant surveillée par le redoutable Chef Skinner… L'aventure s'annonce mouvementée et pleine de saveurs.
"Pleine de saveurs" (full of flavour) says this release, which could be another hint to those aromas of the kitchens being dispersed through the ride (or a marketing pun, or both).
Skinner as the villain of the story is confirmed again, the bad-tempered chef likely the reason why our Ratmobiles will be so desperate to scurry from location to location.
And finally, "la chambre froide" — the kitchen cold store, an interesting scene to mention in an official press release. Combined with the "senses" of the English release, perhaps this cold store will be truly cold to riders of the attraction… and the following oven scene truly HOT?
Separately, the release also confirms Le Bistrot Chez Rémy restaurant will include ratatouille itself on its menu (hold the front page!). Obvious of course, but there's the confirmation.
The official publicity image (above) has also been released in higher quality.
Labelled "Ratatouille – Family", this version shows only four riders despite the Ratmobiles having a capacity of six — presumably, the other 0.4 children can't be seen. A previous version pictured six riders of an older age group, so hopefully the €150 million state-of-the-art dark ride won't just be marketed as something exclusively for six year olds.
Update
Here's one of the likely scents to be smelled inside Ratatouille: L'Aventure Totalement Toquée de Rémy: oranges! This was confirmed to us by Jay Espindola, who's involved with ITV's This Morning programme on British TV, which often runs competitions promoting Disneyland Paris.