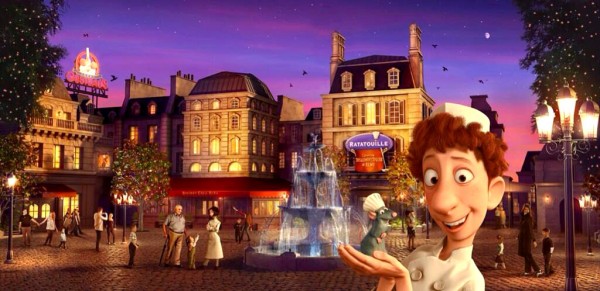 The first surprise of this morning's Annual General Meeting for Euro Disney shareholders came online, as the official Disneyland Paris Twitter account shared a brand new visual for the exterior of Ratatouille's ride and restaurant, a mini-land within Toon Studio to known as La Place de Rémy.
Taking its inspiration from the very first piece of concept art we saw way back in May 2011, this new, slicker visual seems to solve the problem that the more artistic concept just wasn't considered "Ratatouille" enough. Right up front we see Linguini holding Rémy. In the background you can spot Colette, there's the trademark Gusteau's sign up on the rooftop, a mini Chef Rémy carved into the top of the gushing fountain and twinkling lights in the Parisian trees.
For a marketing visual it's actually a remarkably realistic representation of everything we'll see this summer — dazzling purple sky perhaps not included. It also reveals for the first time that a giant copper cooking pot and ladle — just like the one Rémy first meddles with — with be used for the entrance marquee, a whimsical crossover of the oversized rat-scale world encountered once you step inside the showbuilding.
Below, we've annotated a few of the nice details to be found: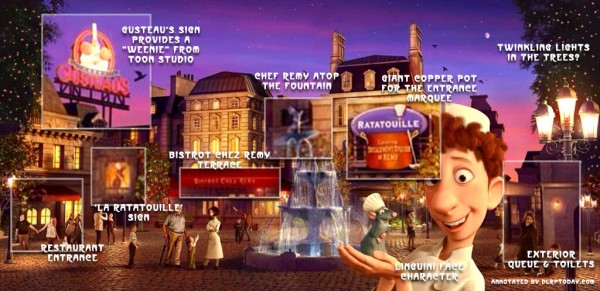 This image was swiftly followed by new English and French versions of the "Ratatouille: The Ride" trailer first spotted in the wild last week, each with its own new take on a promotional logo for the long-winded Adventure Totalement Toquée de Rémy.
For the UK, the logo drops the three horizontal lines compared to the earlier version, while for France there's a surprise as we get "Ratatouille: L'Attraction", seemingly giving in to the fact that no-one, not even the French themselves, will use the full francophone title.
Each trailer ends with "Summer 2014" and, in case you were wondering, the shareholder's meeting itself came and went without any further precision as to an official opening date.
Watch the two new English and French trailers embedded below…