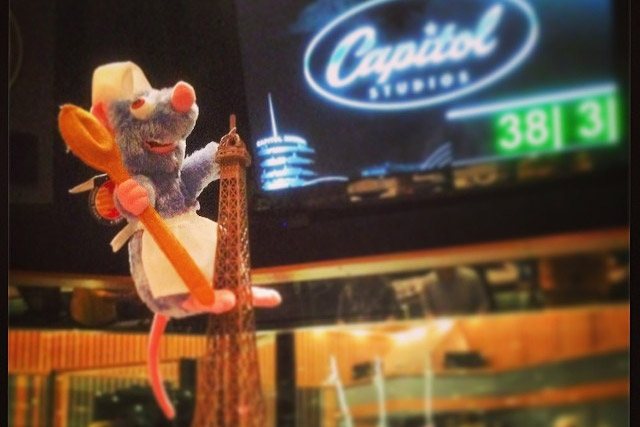 Ratatouille composer Michael Giacchino has continued to share photos and even videos from his recording sessions for Ratatouille: The Ride at Capitol Records in Hollywood, California.
While we've been enjoying some of the first true sneak peeks inside the ride, the film's original composer has been hard at work from Tuesday through to Friday to provide its soundtrack, sharing some of the results on his own Instagram account. Day one brought us a lone shot of the ride's song book, but by day two Giacchino was sharing exciting videos from the sessions, perhaps our first audio peek at the finished score.
Other images included a look at the music notes for "Colette Shows Him the Ropes" and a photo of drummer Harvey Mason and bass player Abe Laboriel.
We mustn't forget that as well as L'Aventure Totalement Toquée de Rémy, there's a queue line, exterior street (La Place de Rémy) and the restaurant (Le Bistrot Chez Rémy) to score, which will require some rather more mellow sounds than Rémy's dash through the ride itself.
Below, we've gathered together all the videos — take a listen!
The last snippet in particular sounds as if it could perhaps be for one of those more sedate background music loop moments around the attraction.
Disney and Disneyland Paris have so far failed to confirm or publicise that Giacchino would return to adapt his original soundtrack for the new attraction, so we thank Michael for these valuable and exciting insights into the production of the ride.