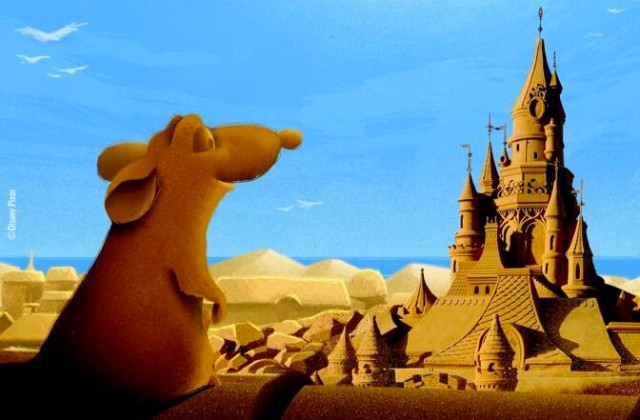 It's not quite a 3D trackless dark ride, but it's still impressive: the famous Belgian Sand Sculpture Festival, which it has been announced will return to a Disneyland Paris theme again this year with an event titled "Disneyland Paris Sand Magic".
Due to be held in Ostend (Oostende) from 28th June to 31st August 2014, the exhibition's new flyer even hints at a well-timed Ratatouille theme.
Touting 30 artists of 12 nationalities, creating 150 statues between 2 and 12 metres high, the official website also reveals 3,000 tons of sand will be used to recreate the Disney scenes.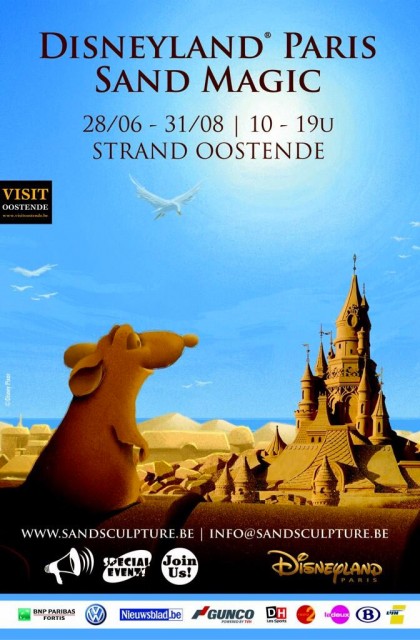 Part of a joint promotional commitment between Disney in Benelux and the organisers of the event, it's also been confirmed already that next year's festival will see the theme of Pixar's upcoming The Good Dinosaur, while 2016 will feature Finding Dory.
Disney provided the theme for the show in 2011 and 2012, with countless landmarks from both parks painstakingly recreated in nothing more than golden sand — from Sleeping Beauty Castle to Main Street Motors, The Twilight Zone Tower of Terror and much more.
• Read our report on the first Disneyland Paris sand sculpture festival here
• See Photos Magiques' pictures of the 2011 festival here
Disneyland Paris went big on the sculptures in 2011: a huge Sleeping Beauty "sand" castle was crafted on the banks of Seine in August, while November saw the resort become the theme of the Bruges Snow and Ice Sculpture Festival.
Which landmarks would you like to see recreated this time around?