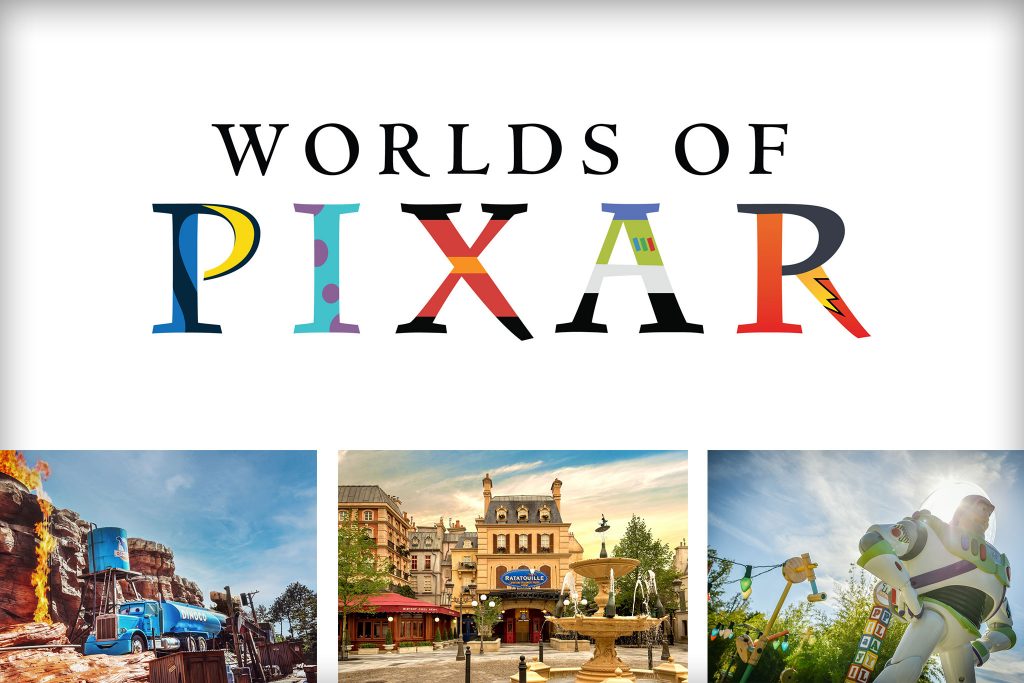 A new name has just been confirmed for much of Toon Studio at Walt Disney Studios Park, encompassing all of the Cars, Finding Nemo, Toy Story and Ratatouille attractions added from 2006 onwards: Worlds of Pixar.
Describing it as "one area for all Disney-Pixar storytelling", Disneyland Paris is defining the new land name officially tomorrow, following the opening of Cars Road Trip back in June.
By repurposing the Catastrophe Canyon element of the former Studio Tram Tour: Behind the Magic into a new Cars-themed adventure, that attraction became the seventh Pixar-based attraction in Toon Studio, versus just one based on a Walt Disney Animation Studios property.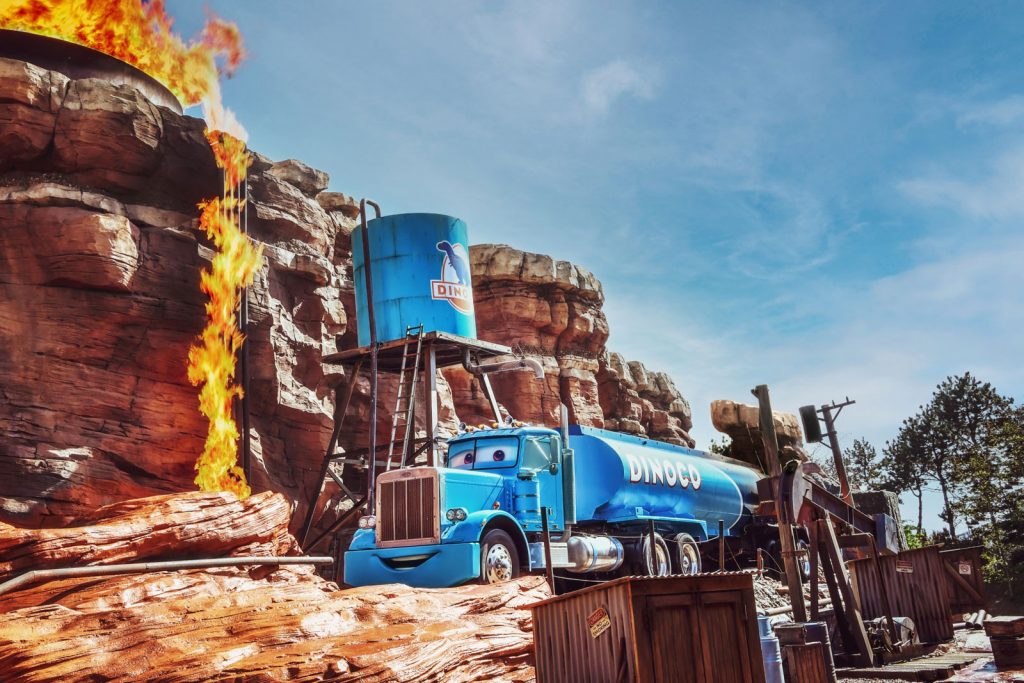 Fans have long suggested Disneyland Paris just rename the whole land to Pixar; now they're finally doing it. Well, sort of: the pesky Flying Carpets Over Agrabah won't be part of Worlds of Pixar (obviously), nor will Animagique Theater or Animation Celebration. So, the Toon Studio name lives on — for now.
"Repositioning Toon Studio and naming Worlds of Pixar as of August 27 is just one part of the ongoing Walt Disney Studios Park transformation, adding more immersion and showcasing recent Disney-Pixar storytelling and characters that guests know and love," says the resort.
"This represents the first of four core zones that will exist in the Park, as development continues on new themed areas starting with Avengers Campus."
While the name comes into use from 27th August, a few minor changes to Pixar-ify the place a bit have already happened. An empty gate near Toy Story Playland now has some fun Buzz Lightyear wings and both character locations at the Toon Studio Plaza were changed to a generic Pixar design.
It remains to be seen what will happen (if anything) to the rest of that Toon Plaza area, with its almost Roger Rabbit-esque cartoon backdrop. As a whole, the land will remain thoroughly disjointed thanks to the two Cars attractions being in completely separate areas.
The Monsters, Inc. Scream Monitors (on the side of Disney Studio 1) will also notably be outside Worlds of Pixar which, despite being such a potentially lucrative land, will still lack a real quick service restaurant and have only one full-size boutique.
But, for now, the resort is promising "new themed snacks and sweets such as Toy Story and Luca inspired shortbreads and exclusive Worlds of Pixar donuts and cupcakes … on hand at four food kiosks." So, not quite to infinity and beyond.
Toon Studio lives on — for now
So what does the future hold for what remains "Toon Studio" and, for that matter, the thoroughly nondescript "Production Courtyard"? Rumours suggest the two areas could eventually be merged together, creating one zone across the central Disney Bros Plaza.
With so much of this strip devoted to live entertainment venues, there's even a suggestion of reviving the Hollywood "Theater District" concept first touted over ten years ago. Hopefully, with The Twilight Zone Tower of Terror included.
Flying Carpets Over Agrabah will presumably, in the future, be either completely rethemed to a Pixar property or replaced altogether.
The attraction was in fact never intended to be part of Walt Disney Studios Park but was added as a drastic last-minute addition, when management realised a park full of mostly warehouses might be lacking some Disney technicolour.
The forced "Genie's making a movie" conceit ended up leading to the Toon Studio concept as a whole. That said, the studio lights and cameras shown on concept art in front of Cars Quatre Roues Rallye and Crush's Coaster never materialised when they opened in 2006, even if the coaster is hidden inside "Studio 5".
Both Toy Story Playland, opened in 2010, and 2014's La Place de Rémy with its Ratatouille dark ride — don't make me do the full title — dropped the "studio" concept entirely. For Cars Road Trip it seems you really are meant to be in an animated Route 66 — just without any of the Radiator Springs placemaking.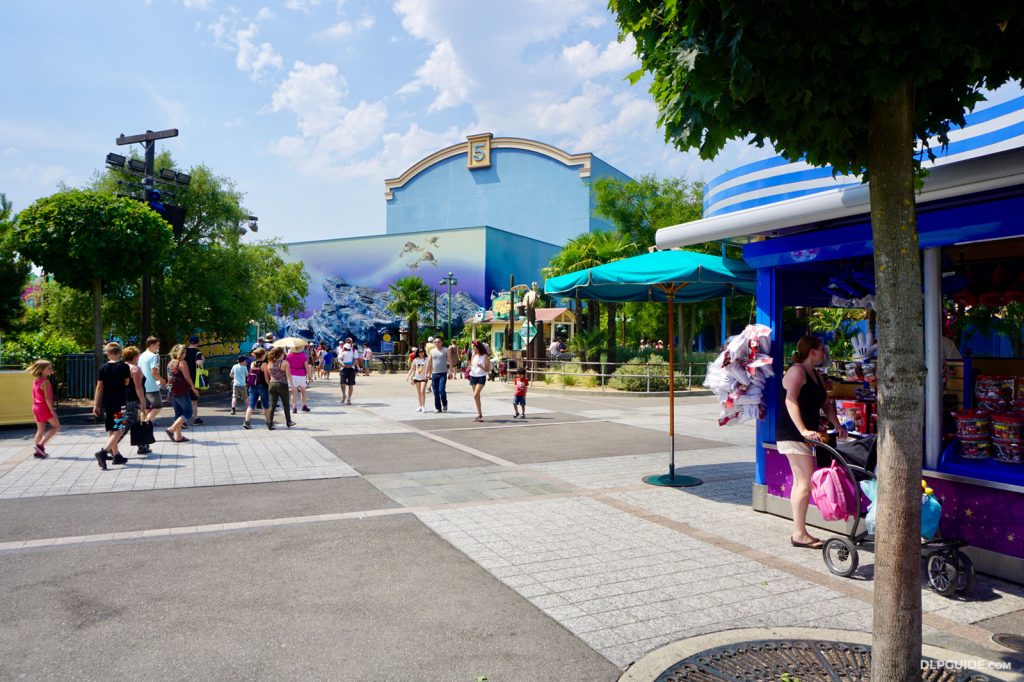 "Four core zones"
Finally, we need to ponder: are they counting this potential Hollywood/Studio/Theater District as one of those "four core zones"?
Which would leave Worlds of Pixar, Avengers Campus and then…? Don't forget, the future lake area was announced as bringing both a Star Wars Galaxy's Edge and Frozen Kingdom of Arendelle to the park.
The resort has never made any further announcements about that part of the expansion, but with the setback of the pandemic, rumours have suggested only one of those two might go ahead, to begin with. (Leaving a rather empty lake area in the meantime?)
Yes, there are still many questions ahead for where the thematic lands and overall concept of Walt Disney Studios Park are headed. Turning Toon Studio into Worlds of Pixar is the obvious bit sorted. At least, once the Flying Carpets fly away.