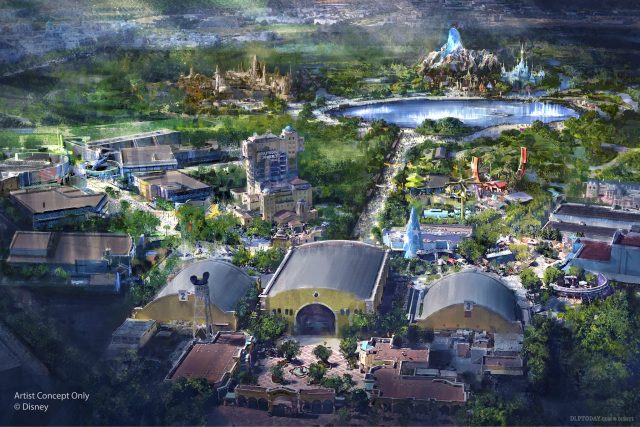 The day every Disneyland Paris fan has waited for is here. Walt Disney Studios Park is set to be transformed and expanded with an enormous 2 billion euro masterplan bringing new Star Wars, Marvel and Frozen lands.
Released shortly after 2pm local time across all platforms by both Disneyland Paris and The Walt Disney Company, the surprise announcement brings a huge new concept art to pore over — but scant detail of specific attractions at this stage.
What we do know: Star Wars: Galaxy's Edge, the huge, cutting-edge development going up right now in Florida and California, is coming to Walt Disney Studios Park.
So too is a Frozen land, likely similar to that announced for Hong Kong.
And following the recent news that Rock 'n' Roller Coaster starring Aerosmith will become a Marvel-themed coaster as soon as next year, the whole of Backlot looks set to follow suit with new façades and building making it an immersive Marvel land with more new attractions.
When? The only detail we have is "in phases beginning in 2021".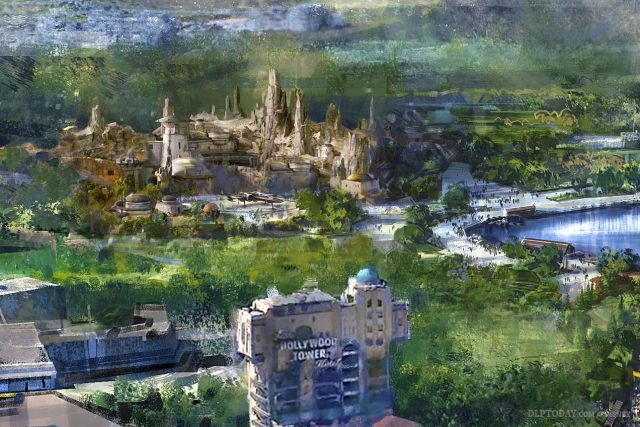 Press Release:
NEWS: Disney Announces Transformative Multi-Year Expansion for Disneyland Paris

PARIS, February 27, 2018 – Today, Chairman and CEO of The Walt Disney Company Robert A. Iger announced plans for a 2 billion euro, multi-year expansion for Disneyland Paris alongside French President Emmanuel Macron at the Palais de l'Elysée in Paris. The new development will include a transformation of the Walt Disney Studios Park, adding three new areas that are based on Marvel, Frozen and Star Wars, along with multiple new attractions and live entertainment experiences.

The expansion plan is one of the most ambitious development projects at Disneyland Paris since its opening in 1992 and underscores the Company's commitment to the long-term success of the resort as Disney's brand beacon in Europe.

"We're very excited about the future of Disneyland Paris and continue to invest in its long-term success," said Robert A. Iger, chairman and chief executive officer of The Walt Disney Company. "The resort is already the leading tourist destination in Europe, and the transformative expansion we announced today will add even more of our beloved characters and unparalleled storytelling to create new lands, attractions and entertainment that further elevate the guest experience and drive new opportunities for tourism in this dynamic region."

The new areas will infuse some of Disney's most popular stories and characters into this unique destination, building upon the success of the resort's 25th Anniversary celebration and continuing to enhance the guest experience for millions of Europeans. With over 320 million visits since 1992 and representing 6.2 percent of France's tourism income, Disneyland Paris has played a key leadership role in tourism for the region. The resort continues to be a powerful driver of economic and social development with over 16,000 employees representing 100 nationalities. This investment will help make the region even more dynamic and appealing and open up more opportunities for French and European citizens in the tourism industry.

The multi-year development will roll out in phases beginning in 2021, significantly expanding the Walt Disney Studios Park. In addition to the three new areas, the creative vision includes a new lake, which will be the focal point for entertainment experiences and will also connect each of the new park areas.

In the spring of 2017, Disneyland Paris kicked off its 25th Anniversary celebration including new entertainment and experiences for guests. The resort also completed a two-year refurbishment program, updating and renovating many of the classic attractions in the parks, as well as opening multiple new entertainment shows such as Mickey and the Magician, which won a 2017 International Association of Amusement Parks and Attractions theme park industry award for "Best Theatrical Production." Additionally, several major renovations took place at the resort's hotels including Disney's Newport Bay Club, which is now a four-star hotel.

Just this month, Disneyland Paris announced plans for a new Marvel-themed attraction that will be coming to the Walt Disney Studios, part of the new Marvel area development. In 2020, the resort will open Disney's Hotel New York – The Art of Marvel, a reimagining of Disney's Hotel New York that will showcase the inspiring worlds of Iron Man, The Avengers, and Spider-Man, among others. And this summer, the Marvel Summer of Super Heroes seasonal event will take place at Disneyland Paris, where guests can meet their favourite heroes and experience new live entertainment.
The concept art, upon closer inspection, is actually painted over what looks like a Google Maps view of the park, with some parts altered and some remaining the same. As well as the zoomed images featured here, click here for the full high-definition image (you may need to right click/long press and Open Link in New Tab).
A short video highlighting parts of the transformation was also released (above).
Perhaps the biggest real surprise on there: a lake! Indeed, it turns out it wasn't just every fan-made concept art dreaming of a huge lake at the heart of the park; the Imagineers want one too. The concept even appears to show fountains and and a passenger boat.
Could a lake there really be big enough to justify a passenger craft, or will this just be one of those pieces of artistic licence in every Disney concept art that never makes it to reality? (Fast-forward to 2031, where we're talking about The Studios Boat That Never Happened.)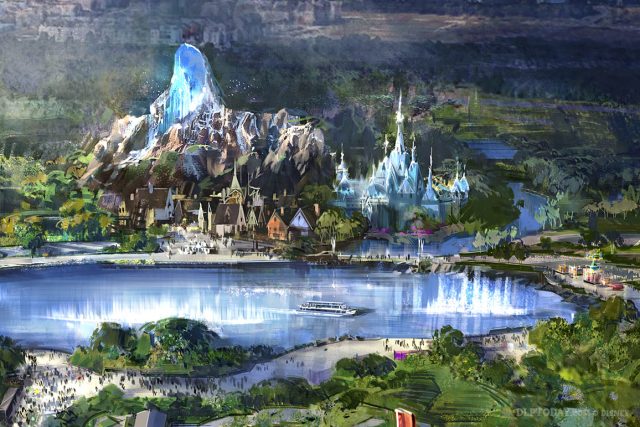 Toy Story Playland is also shown with its own unexpected expansion, including a "Little Green Men" themed building looking like the Alien Swirling Saucers opening soon in the new Toy Story Land at Disney's Hollywood Studios. But of course, it could equally just be a restaurant or anything else in a similar building.
Look closer and you can also see Woody, perhaps suggesting a new entrance to the land from the new central boulevard.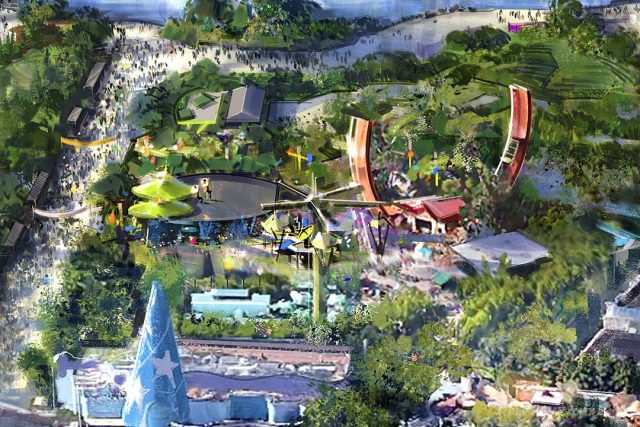 About that boulevard… it's not the long, stretching Hollywood Boulevard lined with shops and eateries we dreamt of, is it? Yet oddly, The Twilight Zone Tower of Terror still exists at its foot. That either means we're going to have a very oddly small pocket of "Hollywood" just around the hotel, or they're just biding their time with an announcement and it'll end up being sucked into the Marvel land beside it with that Guardians of the Galaxy: Mission Breakout overlay after all.
Backlot's Marvel overlay at least looks like a thorough reimagining, with new façades and building elements to all of the existing Blockbuster Cafe and Armageddon "soundstages".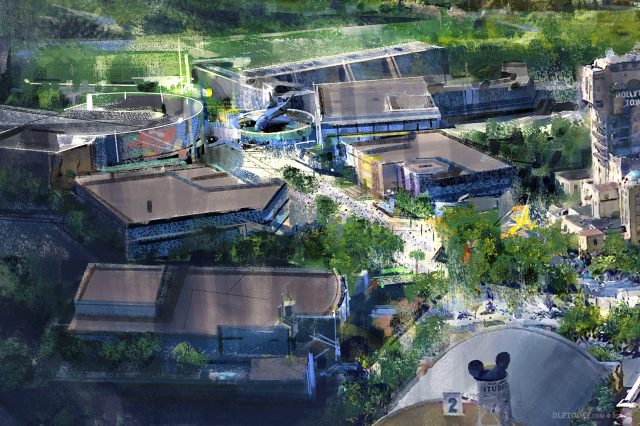 We also get our first look at what will hopefully happen to the square grey exterior of Rock 'n' Roller Coaster: expanding it outwards with a big new circular façade. Both Armageddon and the Moteurs… Action! stunt show will be replaced, though it's hard to say from this artwork if the stunt show will become something totally new (like the major Avengers ride also scheduled for Hong Kong.)
Even Disney Studio 1 is shown with a dramatic new arched opening, though changes elsewhere seem to be less "tranformative" than Disney suggests: Flying Carpets Over Agrabah lives on, as does the somewhat tired Art of Disney Animation.
• View the current map of Walt Disney Studios Park
Could those roads in the woodland behind Ratatouille really suggest the Studio Tram Tour still exists? Let's be careful just how much we read into this image; it's likely there's plenty more still to be decided as we move towards a 2021+ phased opening for what will otherwise be a totally transformed park.
Even Emmanuel Macron said a personal thank you to Bob Iger, visiting the Palais d'Elysée today. Come 2021, will Disneyland Paris fans be doing the same?
Frozen, Star Wars and Marvel, three new lands to open in @DisneyLandParis. Thank you @RobertIger for your long-term investment and very strong commitment in France. Your confidence shows that France is back! #ChooseFrance pic.twitter.com/mFHacnYFNq

— Emmanuel Macron (@EmmanuelMacron) February 27, 2018
Follow DLP Today on Twitter and Facebook for more Walt Disney Studios Park expansion news as it breaks.