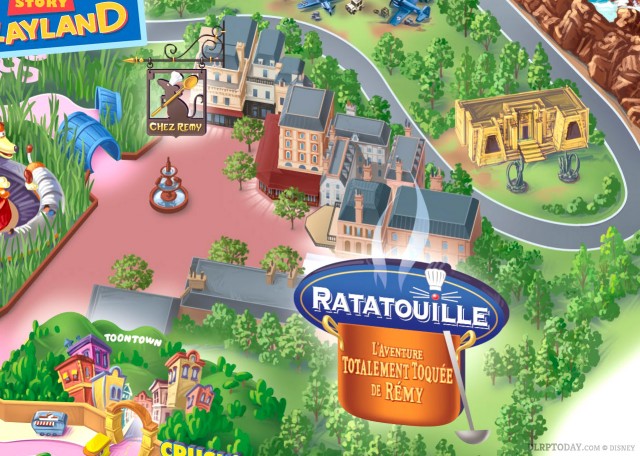 La Place de Rémy has officially joined the Walt Disney Studios Park map. Pre-empting the expected guide map changeover on 3rd April, Disneyland Paris has released an early peek at the new, updated map for its second gate featuring the brand new mini-land.
Depicting the Parisian quarter to the right of Toy Story Playland in Toon Studio, the park map now shows the square, buildings, façades and all-important fountain of Ratatouille: The Adventure. The marquee logos of the ride, Ratatouille: L'Aventure Totalement Toquée de Rémy, and the restaurant, Le Bistrot Chez Rémy, are both included, as is the logo-orientated style of the studio park map.
The map's designers have chosen to end the façades immediately behind their rooftops, similar to several attractions such as Pirates of Caribbean on the Disneyland Park map, and not depict the massive showbuilding in any way. This makes the attraction the first to have a "hidden" or backstage showbuilding on the Walt Disney Studios Park map (even if in reality there's no hiding it from within the park).
While Catastrophe Canyon and the Dinotopia set of Studio Tram Tour: Behind the Magic have been moved to the right in order to fit the latest expansion on, the rest of the park map remains completely unchanged: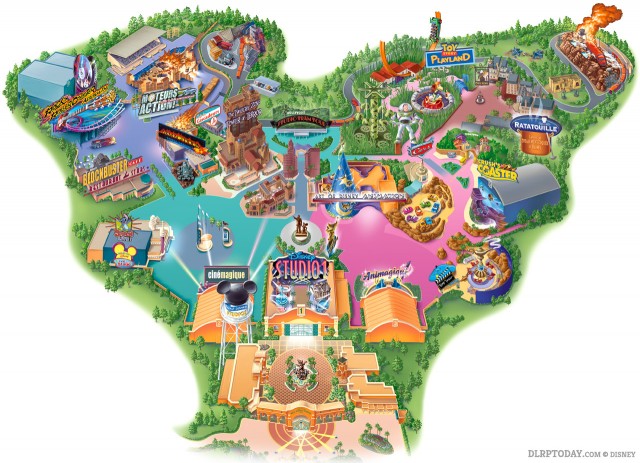 In fact, so much so that the version sent out today still features the Playhouse Disney Live on Stage! logo — the attraction has been rebranded to Disney Junior. The full map also inexplicably features Disney Village in the bottom-left corner, seen from the same viewpoint.
Besides the park, Ratatouille will also be featured on the general Disneyland Paris resort map, with a few of its façades pictured above Buzz Lightyear:
Looking back through the park's previous maps, it is now relatively impressive to see the changes and expansions since opening day — though they have certainly been somewhat lop-sided, with Toon Studio getting much of the attention.
In 2001, perhaps the barest Disney Park map in history was released for pre-opening brochures: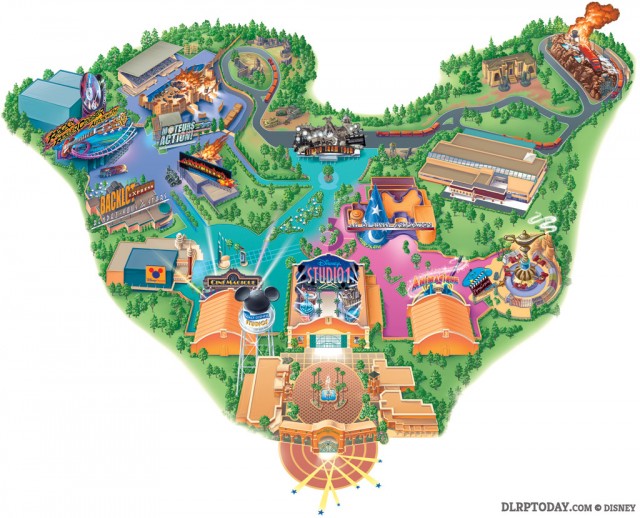 This was thankfully soon updated with more of the park's finer details (if not any of the numerous expansion rumours of the time, which would take five years to materialise):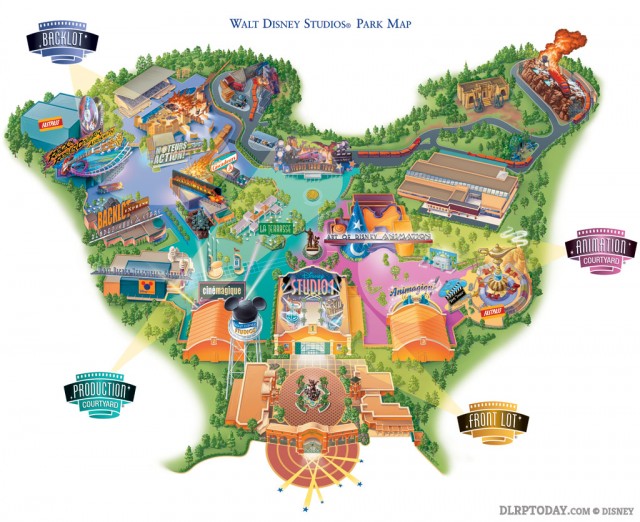 Then, the first and still biggest change to date came in 2007, when Crush's Coaster, Cars Quatre Roues Rallye, The Twilight Zone Tower of Terror and Hollywood Boulevard were all added to the map in one go: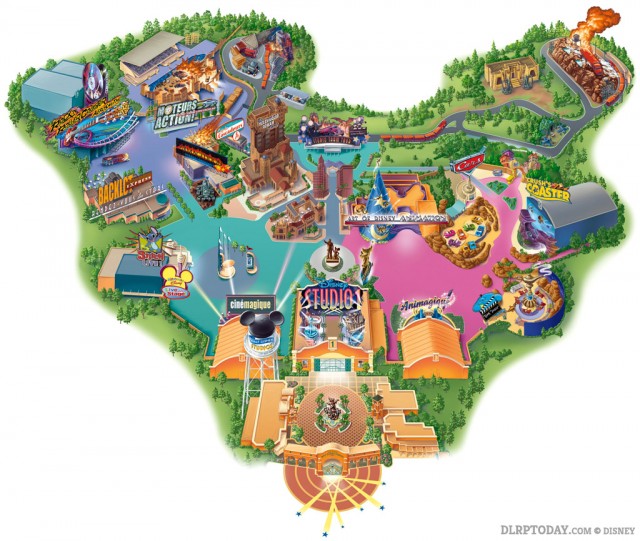 In 2010, the map was updated with Toy Story Playland along with updated logos for Disney Blockbuster Café and Restaurant des Stars.
As with 2007, the early addition of Ratatouille will give the ride some much-needed advance publicity for guests visiting in the months before its opening.
While teasers have been shared online, the expansion must be one of the first in Disneyland Paris history not to see its construction walls decorated with even a modest teaser of what is being built within. With so many missed promotional opportunities already, it's a relief to see this one seized, if only thanks to the traditional bi-annual guide map changeover…