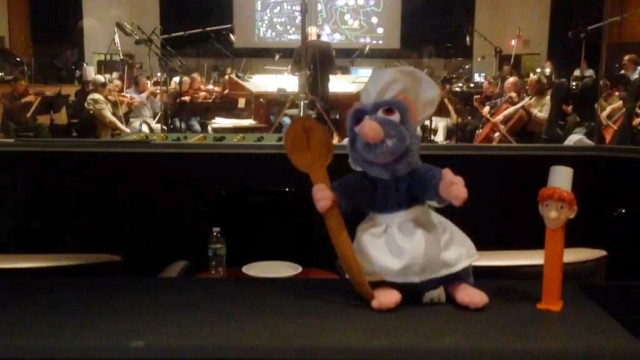 Michael Giacchino's recent Instagram insights into his Ratatouille ride soundtrack scoring sessions have been joined by a tweet from Ratatouille director himself Brad Bird.
Posting a picture of the orchestra playing away behind a Chef Rémy plush toy and a Linguini PEZ dispenser, the Incredibles mastermind said:
@m_giacchino's scoring session yesterday for the new RATATOUILLE ride for the Paris park. (I like the Linguini PEZ.) pic.twitter.com/XSAlrobUdn

— Brad Bird (@BradBirdA113) March 4, 2014
Besides the PEZ, the photo also shows how the orchestra appear to be being conducted along to a plan of the ride's layout, projected in the background, with the "Ratmobiles" shown moving through the scenes as white shapes.
Last month, the film's original composer, Michael Giacchino, began sharing a number of video clips from a whole week of scoring sessions, featuring soundbites of the attraction's new soundtrack which he has composed himself.
Should Bird's tweet be "live" and the scoring sessions have resumed, it really shows how much work is going in to provide music for the ride, restaurant and La Place de Rémy exterior.
This isn't Brad Bird's first mention of Ratatouille: L'Aventure Totalement Toquée de Rémy on his Twitter account. In March 2012, long before Disneyland Paris officially acknowledged the attraction, he gave a short response to a fan stating he was very excited about the project and that "It's going to be really cool."
Desperately lacking a platform like the Disney Parks Blog, Disneyland Paris itself has yet to truly begin providing any teasers or insights into the attraction's creation. So here, we have the odd situation where the film's composer and director are providing some of the best promotion of the mega-budget attraction it's inspiring. Note to Paris: anticipation sells, silence doesn't.