It's a glorious, sunny day in our corner of Europe today, with the feeling that Spring has truly sprung. The same could finally be the case for Disneyland Paris' much-rumoured Spring Festival season, with new logos and creative text published this week.
The three designs, shared by Dlrp Express, take the standard Disneyland Paris logo in a fresh shade of green and apply colourful flowers, climbing plant shoots, a bright pink butterfly and musical notes floating in the air.
Both this rather over-the-top design, and a more discreet, flatter version have been released.
Alongside those is a new graphic to complete the set: a green petalled flower with Mickey Mouse-shaped centre, plus the same pink butterfly and musical notes.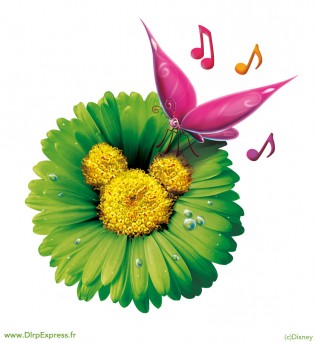 The first piece of text describing the season also appears to have been unearthed. Although we don't have this directly from an official source, it's unlikely even a fan could write something so typically Disney, let alone produce the logos above:
"Swing into a Disney Spring, blooming with magic at Disneyland® Paris. Color and music blossom throughout Disneyland® Park. And with the smell of flowers and fun in the air, it's sure to be magnifiScent."
Rumours point towards the new season beginning around 5th April and running until 22nd June 2014. Not only would this fill a gap in the schedule where Disneyland Paris has previously launched a year-long festival, it'd fit remarkably well with speculation of Ratatouille press and soft opening dates, which could perhaps start taking place around 21st June.
So, Disneyland Paris has a brand new season of entertainment and decorations beginning in less than a month — why on earth isn't it advertising it? Besides the fact that the resort often leaves promoting things quite late, there are clues in the rumours so far.
• Read our previous article to learn more about what the new season could include: New "Spring Festival" season set to fill April – June months at Disneyland Paris
If the "main event" of the season's first year is only going to use the Casey Jr parade train, repurposed for the millionth time, and some borrowed cars from Disney's Stars 'n' Cars, it definitely hints at something that will be more a trial concept rather than a fully-fleshed season from the outset.
Disneyland Paris has grown, improved and redefined its Christmas and particularly its Halloween seasons over several years recently, and likely wouldn't want to create too much hype over something that is such a completely new idea. Will the theme, decorations and events work? Will guests actually buy into a "Spring" season, as a reason to revisit?
If the season's a success, we can surely expect it to return next year, bigger and better, with a full promotional push as a third "pillar" season of the year in official brochures. It's a perfect way for Disneyland Park to feel "fresh" each spring even when the resort doesn't have a genuine new attraction to offer. But for this, the first year we might "Swing Into Spring" (it's still not confirmed!), it'll probably be more a pleasant bonus. Just like today's weather.