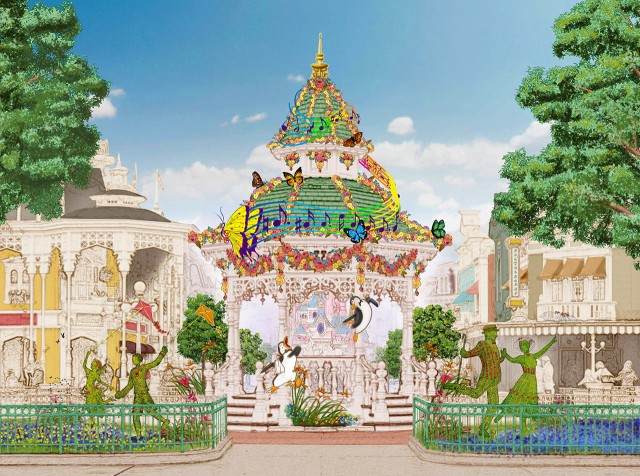 Disneyland Paris has finally swung into action, confirming months and rumour and speculation with the first promotion of its upcoming Spring Festival season at Disneyland Park. While the calendar season begins today, Disney's season of entertainment and special decorations will run from 5th April to 22nd June 2014, confirming the rumoured dates exactly.
Two new pieces of concept art lead the announcements, shared on the resort's official Facebook and Twitter pages.
Above, the concept shows Town Square and its gazebo decorated with Mary Poppins-themed topiaries, flowers and decorations including Mary, Bert and the "Jolly Holiday" penguins.
Below, one of the new centrepieces for Central Plaza is shown, featuring One Hundred and One Dalmatians. Each of the four main flower beds in the heart of the park will have a different display of flowers, topiary and musical notes — a new official press release confirms the others will feature The Lion King, Bambi and The Aristocats.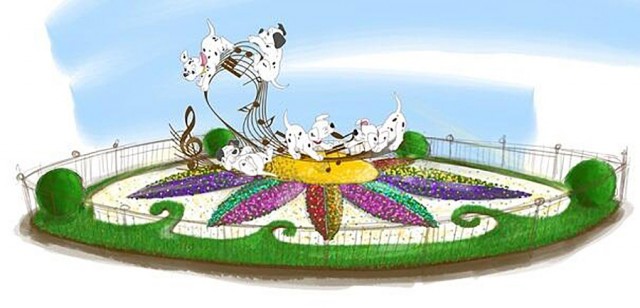 So far, the press release has only been slipped onto the Belgian press websites, under the title "Disneyland Paris aux couleurs du Printemps" (Disneyland Paris in the colours of Spring). Here's a full translation of the key points from the French language version:
Disneyland Paris in the colours of Spring

5th April to 22nd June 2014

If Disneyland Paris was a garden, it would be the largest in Europe with 35,000 trees, 250,000 shrubs and more than a million flowers planted each year. Mickey and friends have decided to celebrate this legacy of success with a special theme for more than three months, in the colours of Spring. With new happenings, new decorations and the opportunity to meet the Disney characters in new costumes.

Disneyland Paris turns into a "springtime stroll".

The new daily "Promenade Printanière" happening promises to be the event of the day. This ultra-colourful musical event will be enlivened by more than one hundred artists including 90 dancers. Not to mention the Disney characters in new, specially-created costumes. Mickey and Minnie, Alice and the Mad Hatter, Woody and Jessie from Toy Story, Stitch, Pinocchio, Clarabelle and many more will delight park guests accompanied by the musicians of the "Jolly Holiday Band" and "Swing into Spring Orchestra". The new generation will also be in the spotlight, notably Rapunzel.

In decorations, small and big dreamers will be able to discover their favourite Disney heros in versions more "flowery" than ever. Beside Sleeping Beauty Castle, topiaries depicting One Hundred and One Dalmations, Simba and Nala (The Lion King), the Artistocats and even Bambi and his friends Flower and Thumper have sprung up like magic. Elsewhere, landmarks will be transformed into showcases of flowers.

"Bienvenue à la Belle Saison", at the entrance of Disneyland Park, will immerse guests in the magic of Spring, with butterflies, flowers, topiary and music.

Finally, children can play as budding explorers with an entertaining leaflet guiding them through the nature, ecology and diversity offered by Disneyland Paris.
While the English name "Swing into Spring" has long been associated with the season and/or its daily happening, the main event is confirmed here in French as "Promenade Printanière" (Springtime Promenade), with two musical acts named "Swing into Spring Orchestra" and "Jolly Holiday Band". It remains to be seen how the season itself will be titled in English.
With no less than a hundred "artists" including 90 dancers from the auditions earlier this year, the event, which is rumoured to take place around Central Plaza, could be quite a surprise spectacle indeed. Having two confirmed musical acts is also great move, rather than the park's usual erratic live music schedule. This release also confirms Rapunzel will be featured, with a meet 'n' greet rumoured for the spot near to Casey's Corner in Main Street, U.S.A.
Very welcome too is the renewed focus on the park's gardens, especially as Disneyland Paris always spends money creating fabulous flower displays every year in springtime anyway.
It's reassuring to see the event should indeed include some real flora rather than just fibreglass decorations. Indeed, while the flowers and topiaries look lovely, it wouldn't exactly be a shame if the rather garish, unnecessary musical notes and butterfly were dropped from the Town Square gazebo concept, would it?
But still, simply for Disneyland Paris to share concept art publicly like this is a positive step itself — not just promoting the event but showing the talent and artistry going into it.
Posting on Facebook, Disneyland Paris announced:
"As of April 5th, Disneyland Paris will be officially welcoming the return of spring! This brand new season will be bursting with surprises, so come and join all your favourite Disney Characters for a music-filled celebration of blooming flowers and glorious sun-drenched days!"
However as "product" launches go, this must be one of the most last-minute in the resort's history, giving only just over two weeks notice before the events actually begin. This could be a way to reduce expectation ahead of a bigger investment and promotional push next year, when the concept is proven, but for now has Disneyland Paris confirmed these Spring details with enough time for you to actually plan a trip, or did you wish you knew sooner?
Previous updates:
• New "Spring Festival" season set to fill April – June months at Disneyland Paris
• Disneyland Paris Spring Festival speculation blossoms with new logos, official text