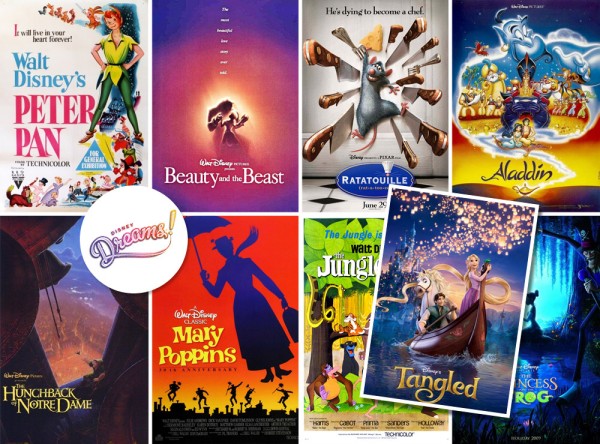 This has been one amazing build-up, with over 50 news stories in March alone, but now here we are: our final post before the 20th Anniversary of Disneyland Paris officially begins! So, for this grand finale, we reserved one special story: the story of Disney Dreams! itself.
No doubt you can precisely list every single technical element of the show by now, so what are the characters, films and "dreams" these special effects are bringing to life? They're a diverse mix of eras and styles, from Peter Pan all the way to Tangled. Here's your full show programme:
Introduction
Tinker Bell & Second Star To The Right
Peter Pan & Wendy
Be Our Guest (C'est la fête) from "Beauty and the Beast"
Rémy from "Ratatouille"
Friend Like Me from "Aladdin"
Out There (Rien qu'un jour) from "The Hunchback of Notre Dame"
Step In Time from "Mary Poppins"
I Wan'na Be Like You from "The Jungle Book"
I See The Light from "Tangled"
Friends On The Other Side from "The Princess and the Frog"
Captain Hook
Peter Pan & Wendy
You Can Fly & Second Star To The Right
According to some sources, the entire show weighs in at a clever 20 minutes and 20 seconds.
It all begins on a starry night, as Peter Pan and Wendy look up at the Second Star to the Right. But then, leaping free from his body, Peter Pan's shadow escapes and hits the star, causing its special dreaming pixie dust to pour over the castle. What follows is a series of musical set-pieces, following the songs above, as Peter Pan chases his shadow across a timeline of Disney dreams which were wished upon the star, from Quasimodo to Rapunzel and more besides.
Things, as they always do in any good nighttime spectacular, turn spectacularly sour with Dr Facilier's "Friends On The Other Side" and the arrival of Captain Hook. Will Peter Pan be able to battle his nemesis, recapture his shadow and restore the dreams to their rightful place inside the Second Star to the Right, causing it to shine brightly over the land again?
Well, you'll have to wait to find out…
• Join DLRP Today next week as we report back from the 20th Anniversary Launch with news, photos and brand new High Definition videos of all the events! In the meantime, follow us on Twitter and 'like' our Facebook page for updates over the weekend and subscribe to the DLRP Magic! YouTube channel to be the first to see our 1080p HD video of Disney Dreams! as soon as it goes live.