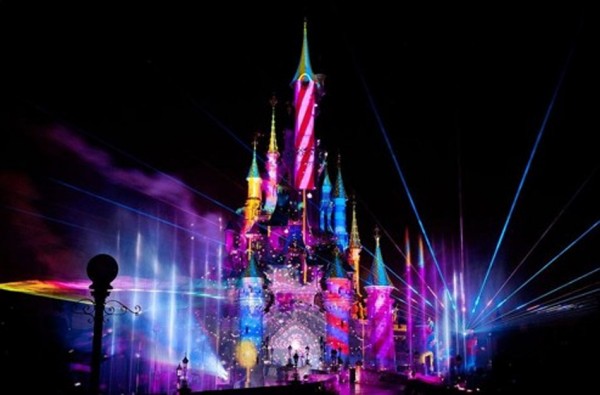 This is our very first, official look at the completed Disney Dreams! — projections, multi-coloured lasers, illuminated fountains — wow! Just a handful of the effects on show and only one of its many "Dreams" pictured — turning Sleeping Beauty Castle into a collection of rocket fireworks for the Aladdin "Friend Like Me" sequence, but a thrilling first "official" glimpse at what's ahead, right?
Exactly one week from now, the show will premiere to the world's press at 10.30pm, Saturday 31st March. Creative director Steve Davison is certainly feeling the anticipation, posting on Thursday: "Great rehearsal tonight of the show with a lot of bells and whistles. It is really starting to come together. So much fun!!! Almost time to unveil this magical show!"
We can also now confirm that on the official opening day of the show, 1st April 2012, it will be presented twice in one evening: at 9.30pm and 10.30pm. Yes, if late park hours all year and a nightly nighttime spectacular weren't surprising enough for Disneyland Paris, they're now running double performances. There are rumours this could continue for the whole 20th Anniversary year, but no further showtimes have been announced as yet.
If you can't make it to the resort so soon, stay with us as we'll be there to capture the whole thing, reporting back with photos, videos and more from the first week of April onwards to give you the whole story on the 20th Anniversary launch. Be the first to see our 1080p HD videos of the show, and other 20th Anniversary events, by subscribing to our YouTube channel!