It's the same as having wings!
Follow the Second Star to the Right and see the greatest Disney stories ever told brought to life in an epic spectacular, immersing Sleeping Beauty Castle — and you! — in the colours and awe-inspiring magic of an all-new grand finale to your day.
You've seen electrical parades, you've seen fireworks, but you've never seen anything quite like this at Disneyland Paris. With the launch of the 20th Anniversary, the culmination of your day in the park will be just that: a dazzling, show-stopping ending combining fountains, fireworks, projections, lasers, fire, "never before seen" special effects, an all-new musical score and, most importantly: an epic story, all about the power of dreams.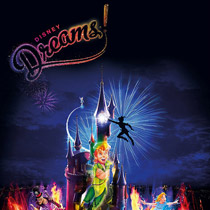 In the vein of the legendary Fantasmic! and more recent World of Color, Disney Dreams! will be a true nighttime spectacular, a "kiss goodbye" to end every day — yes, every single day this year — on a high. Produced by Steve Davison, reknowned for those two very same earlier hits, the creation of the show is overflowing with talent, ranging from the technical experts of Imagineering to the animation masters of Pixar and Walt Disney Animation Studios.
Since 1992, the grand farewell provided by firework shows has been limited to seasonal events and summer months only. With Disney Dreams! designed from the ground up specifically for this park, its nightly performances will take place year-round and will even lead to longer opening hours for the park — so-called "20th Anniversary Extended Hours". Now, guests will not only see the spectacle of Main Street illuminated by night, they'll see a world-exclusive spectacular that proves, after twenty years, Disneyland Paris has come of age. All it took was faith, trust... and pixie dust.