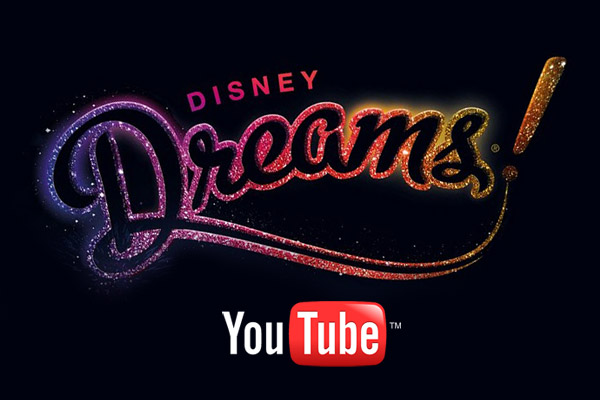 What are you doing at 10.30pm this Saturday, 31st March? Cancel it. Instead, prepare a drink, warm some popcorn and settle down to watch the world premiere of Disney Dreams! — broadcast "live" to your computer screen on the Disneyland Paris YouTube channel.
We've already seen promotions for a live streaming event in collaboration with French broadcaster TF1, but now Disneyland Paris are apparently opening this up to the world via their official YouTube channel. Those eager to see the grand premiere of the new nighttime spectacular, created by Steve Davison, will be able to log onto the channel this Saturday evening where a special, re-themed page will guide you to the live stream. There, you'll see the whole event unfold in realtime, joining the invited press in the park to be the very first members of the public to see the show.
Don't forget, though — that's 10.30pm Central European Summer Time. In the UK (BST), you'll need to be online for 9.30pm, whereas Disney fans over in Steve Davison's home state of California, for example, will see Disney Dreams! as a matinée performance at 1.30pm. And as with all Disneyland events, it may be sensible to arrive a little earlier…
This is a daring proposition by Disneyland Paris: having spent millions (at a guess) on a huge new nighttime show, they're now going to allow people to watch the whole thing, online without even leaving their homes. The audience may only be made up of more committed, regular visitors, but it must show some confidence in the show itself — not just that it's a worthy spectacular, but that viewers will be so taken by it they'll still consider it worthwhile to book a trip and see it for themselves.
Final programming of the show was completed just last night, ahead of the private Cast Member premiere tomorrow. Posting on his Facebook fan page, Steve Davison wrote:
"Tonight we completed the final programming of DISNEY DREAMS! It was a lot of work and I can never thank the production team enough for all their efforts. This was a very diffucult show to create/produce, but everyone stuck with it and gave it their all! Thanks Team Dreams! Whew! We're all very exicted to premeire the show.

"There's lots of activity in the park tonight as they prepare for the 20th! For me, I think I'm going to call it an early night."
On Saturday, the world awaits. Then, Disney Dreams! officially opens for all park guests with two performances at 9.30pm and 10.30pm on Sunday 1st April.