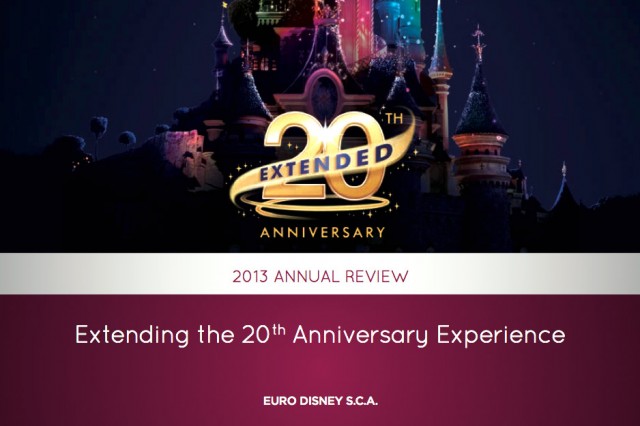 Soundbites about "challenging tourism climates" and "investing in growth strategies" aren't all you'll find the Euro Disney S.C.A. Annual Review. Published by the Disneyland Paris operating group each year, the splashy document is also filled with a host of fascinating and intriguing facts and figures about the resort, its parks, its Cast Members and its visitors.
You can browse the 2013 Annual Review now online. Surprisingly, this year breaks with tradition and abandons the usual overblown website dedicated to the report (last year complete with Philippe Gas video intro) and presents it just as a standard e-brochure. We'd love to know the figure for how much cash that decision wisely saved. But instead, here's our quick pick of the key figures and fun facts of 2013 at Disneyland Paris…
Disneyland Paris has now been visited more than 275 million times
Between 2009 and 2013, around €510 million has been invested in the maintenance and development of the destination
There are over 14,000 Cast Members working over 500 different professions; 6,454 employees were hired in 2013
Inclusivity: Over 581 workers are disabled, an increase of over 50% since 2007, whilst 53 "seniors" aged over 50 were hired in 2013
Climbing the ladder: 80% of Managers and Senior Managers present in 2013 had been promoted internally, while the group hired 458 local residents who had experienced long-term unemployment
Val d'Europe now has 30,000 residents and provides 28,000 jobs
Hotel refurbishment programme is on-going, covering all 5,800 rooms, with all 1,100 rooms of Disney's Newport Bay Club to be completed in 2014
14.9 million visitors in 2013 (down from 16 million in 2012 and 15.6 in 2011)
Hotel occupancy down to 79.3% in 2013, from 84% in 2012 and 87.1% in 2011
Guest spending continues to grow: the average guest spends €48.14 in the parks and €235.01 per room in the Disney Hotels
Interest charges on the group's debt were reduced by €20.4 million in 2013 thanks to the €1.3 billion refinancing by The Walt Disney Company in 2012
According to questionnaires, 63% of guests were "extremely" and "very" satisfied with their visits; 89% of guests would "definitely" and "probably" come back
Disney Dreams! scored a 92% guest satisfaction rating for fiscal year 2013
4 million items have been sold at World of Disney since its opening in 2012
Staffed 24 hours a day by 200 Cast Members, the "Hercules" warehouse complex is more than 15 times the size of an Olympic swimming pool; in 2013 it was refitted with dimming, sensing, low-energy lighting by partner Osram
Scheduled for completion in late 2015, the fifth Val de France hotel, to be operated by B&B Hotels, will add 400 rooms to the resort
90% of the land at Villages Nature will not be built on; the Center Parcs joint project will be developed in several phases over the next 20 years
87 milion gallons of drinking water are expected to be saved each year once the new backstage water treatment and recycling plant becomes fully operational
Ratatouille: l'Aventure Totalement Toquée de Rémy will be "by far the most advanced and sophisticated thing we've ever done from a ride integration standpoint. It will offer guests a totally immersive experience into a Disney•Pixar adventure" — Joe Schott, Senior Vice President & Chief Operating Officer
"This never-before-seen family attraction will magically shrink guests to the size of the movie's adorable star, Rémy. They will then be whisked off for a multi-sensory spin around the kitchens of Chef Gusteau"
Last, but not least, the geographical split of theme park visits, where France has broken 51% leaving all other feeder nations languishing. It's fascinating to look back ten years to the results from the 2003 Annual Review and see how dramatically the breakdown has shifted.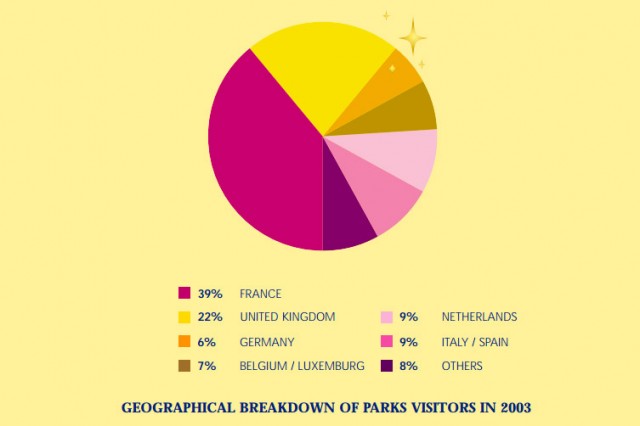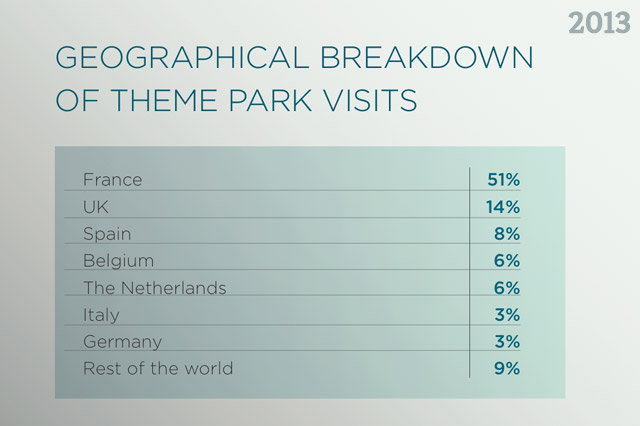 Where once 22% of visitors were from the United Kingdom, now that percentage is a tiny 14%. Worse for Germany; its percentage share has halved from 6% to 3% in 2013. Italy and Spain meanwhile used to make up 9% together and have now increased to 11%, mainly thanks to a boom in visitors from Spain begun a few years ago, but which now appears to have ebbed away, in line with the country's economy, to 8%.
Attendance figures in 2003 were 12.4 million, so 22% would give an estimated 2,728,000 British guests for the year. The same calculation for 14% of the 14.9 million guests in 2013 gives 2,086,000 guests crossing the channel. Far from a scientific, watertight calculation, obviously, but you could see it suggesting that roughly 654,720 fewer visitors from the UK went to Disneyland Paris in 2013 compared to ten years ago, a 24% drop.
Overall, with 49% of visitors now coming from outside France in 2013 versus 61% in 2003, you could estimate the resort's entire non-domestic park attendance has actually fallen by over a quarter of a million guests in the past ten years, from 7.6 million in 2003 to 7.3 million in 2013. In the same period, meanwhile, you could estimate attendance from within France has grown by a huge 2.8 million guests, from 4.8 million to a strong 7.6 million visitors.
Clearly it is time Disneyland Paris took a few of its œufs out of its panier and worked on growing visitor numbers from other countries too, if only back to the levels they were ten years ago.
That's not something even Rémy can do alone, or is it?