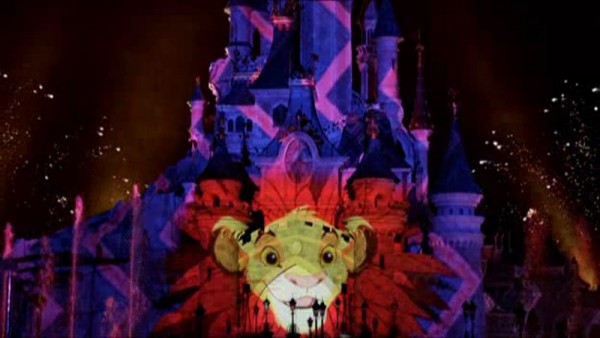 Just can't wait to see how one of the new scenes coming to Disney Dreams! will look? Here's your first sneak preview, courtesy of a new teaser trailer on the official Disneyland Paris website. For a few brief seconds, visible in the screen capture above, we see the face of Simba from "The Lion King" roaring across Sleeping Beauty Castle, surrounded by colourful projections and fountains.
With Simba's red-leafed mane, this is unmistakably the "I Just Can't Wait To Be King" segment of the new scene, scheduled to be officially added to the show from 1st April 2013. We reported last week that this new scene is said to be a medley of the songs penned by Tim Rice and Elton John for the film, also including "Circle of Life" and "Hakuna Matata".
Along with a scene from Pixar's "Brave", it will apparently replace the current "Mary Poppins" and "The Jungle Book" scenes – so catch those "originals" while you can.
However, unlike that second new scene featuring Princess Merida, Simba's guest role in the nighttime spectacular was reportedly already animated and programmed for the launch of the show last year, but held back in favour of Baloo and King Louie's "I Wanna Be Like You", so this footage could actually date from then. One confirmed change to the scene since its 2012 trials, though, will be the young singers of Dutch TV show "The Voice Kids" now providing vocals for its soundtrack, recorded just last month at Abbey Road Studios in London.
Watch the new 20th Anniversary – Extended! trailer here…