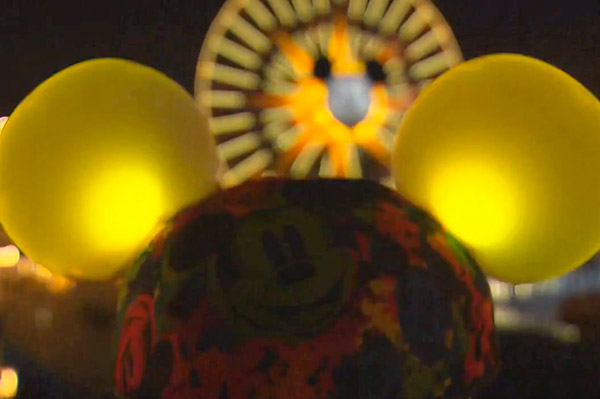 There will be more than just two new scenes to light up Disney Dreams! on its first anniversary this year: you too can "glow with the show" as the illuminated Mickey Mouse ears first introduced for World of Color at Disney California Adventure will come to Disneyland Paris, the resort has confirmed.
Named "Glow with the Show Ears" in California, they'll be known instead by a new name in Europe: Disney Light'Ears. Once activated and placed on your head (or anywhere!) within the spectacle's viewing area, they light up and change colour in sync with the show itself.
This is an optional, paid add-on, of course — in California the ears were priced at $25 for launch and, though no price has been publicly announced, reports from research questionnaires carried out in Paris suggest they could be looking at a €25 price point to own a pair over here. For added value, California later activated the ears for use during Fantasmic! at its own Disneyland Park, as well as controlling them to light up in certain areas such as inside the new Cars Land.
Battery powered, the hats are controlled by infra red signals from emitters placed around the audience area. For World of Color, this comprises around 40 "zones" which can each be sent a different command to illuminate and change the colour of the ears.
Unlike in Disney's home state, Mickey ear hats have never particularly taken off at Disneyland Paris — you're more likely to see a sorcerer's apprentice, a Goofy or at most a Minnie Mouse bow. Could Disney Light'Ears be the spark to finally bring popularity to this classic park merchandise item in Paris? Would you pay to own a pair yourself, and do you think they'll really add to the experience of Disney Dreams! or just be a distraction from the show itself?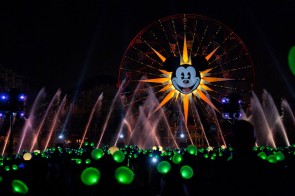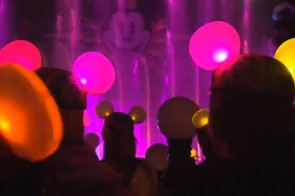 It's fair to say at least that, for such a high-rating signature attraction, Disney Dreams! needs more supporting merchandise, so this can only be a positive step in that direction. The ears were also only debuted in California last August, so the stated "Summer 2013" makes for an unusually speedy rollout to Paris — now only the second Disney resort in the world to have them.
Now watch "Glow with the Show" in action at Disneyland Resort, California…
New 'Glow with the Show' Ears Light Up During 'World of Color'
Chuck Davis, Senior Technical Director explains the technology behind the ears
Come "Glow With the Show" at Disney California Adventure Park
'Glow with the Show' Now Glowing at Disneyland Park