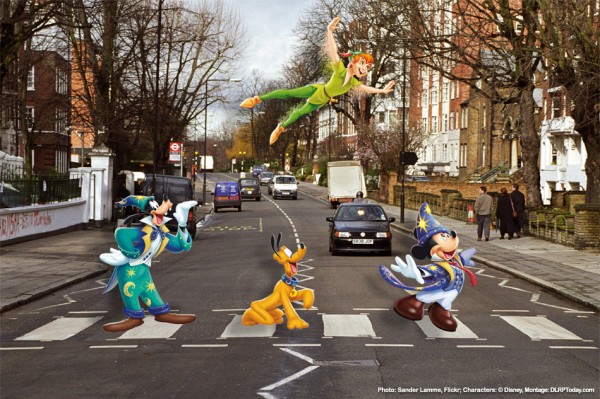 What do you get if you combine film composer Joel McNeely, a 96-piece orchestra, a children's choir, an adult choir and Irish folk singer Cara Dillon at the famous Abbey Road Studios in London? A soundtrack to Disney Dreams!, that's what. The show's score was recorded in January this year, with Steve Davison flying into London to oversee the project. While Steve has visited Abbey Road previously to record the music for his spectacular Tokyo DisneySea version of Fantasmic!, Joel has used the North London studio, made famous by The Beatles, to record soundtracks for several of Disney's recent Tinker Bell movies.
For a new nighttime spectacular, based around Peter Pan losing his shadow, they couldn't have picked a better team. Steve Davison wrote on Facebook, 13th January: "In London this week recording Dreams for DLP at Abbey Roads Studios. Today we're in the famous Beatles Studio2 recording percussion. The score for Dreams is really amazing. Can't wait for all of you to hear it!!!"
By 17th January his work in London had finished, with the confident conclusion that the score we're all waiting to hear is, simply put, "beyond epic": "We just wrapped the recording sessions for dreams. It's an amazing score. One of the best we have done in years. It's beyond epic!"
Wrapping up the many featured songs from Disney classics, ranging from Beauty and the Beast and The Hunchback of Notre Dame to Tangled and The Princess and the Frog, the score will of course also be heavily based around new arrangements of "The Second Star to the Right".
Amongst numerous Disney projects, Joel McNeely also notably scored the Return to Neverland "sequel" to Peter Pan in 2002. The scale of his score for Disney Dreams! appears impressive: a 96-piece orchestra, plus both children's and adult choirs. Confirming the project, his official website writes: "Joel has just completed the score to a new outdoor spectacular show for the 20th anniversary of Disneyland Paris. The show is entitled Disney Dreams. Joel recorded at Abbey Road in London with a 90 piece orchestra, children's choir and adult choir."
And there's one more surprise: "It will also feature a song written by Joel for Cara Dillon."
Cara Dillon may also be known to anyone familiar with the popular Tinker Bell movies. For the third film, Tinker Bell and the Great Fairy Rescue, she was invited by Joel to sing the opening song, titled "Summer's Just Begun". This led to the Irish folk singer, from Dungiven in County Londonderry, Northern Ireland, to sing a second song over the credits and even read the opening narration.
Her website notes: "Cara and Sam were thrilled to have been invited to record a brand new song to form part of a new spectacular show to mark the 20th Anniversary of Disneyland Paris. They went to the legendary Abbey Road Studios back in January to record the song with a 96 piece orchestra and to listen to the rest of the music being recorded for the show. Joel McNeely, who composed the music for Tinkerbell 3, wrote the beautiful new song and conducted the orchestral sessions."
This new song will certainly be a world away from the hyperactive "Magic Everywhere" and "Do You Believe" of the daytime events. If the beautiful projections or extraordinary fountains and fireworks don't bring a tear to your eye, it could just be Cara's beautiful, delicate voice that does it.
Below, watch a delightful video of Cara Dillon on stage, humbly explaining how she came to work for Disney on the Tinker Bell movie and her first experiences of Abbey Road, followed by a beautiful performance of her second Tinker Bell song, "Come Fly With Me"…
Along with Joel McNeely's score, Cara Dillon's new song for Disney Dreams! won't only be heard whenever her children pull out the DVD, but every single night of the year at Disneyland Paris.