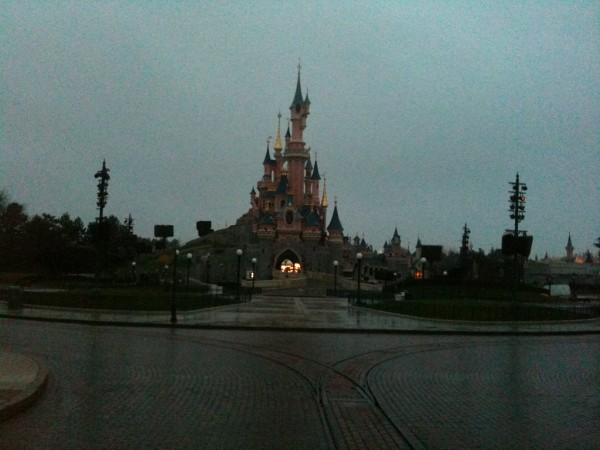 It's the dawn of a new day. Construction walls have finally come down in Central Plaza, revealing the finished repaving project across the hub of the park following the much-celebrated removal of the overbearing stage which had resided here since 2009. After seven weeks of work through freezing conditions into the milder days of early spring, the completed Central Plaza is now a vast expanse of smoothly-finished concrete pavement — no obstacles, no obstructions, just a perfect view of Sleeping Beauty Castle and of course, the impending Disney Dreams! nighttime spectacular.
In fact it was Steve Davison, the director of Disney Dreams!, who grabbed these very first photos of the plaza without construction walls at 6am this morning. Though we don't entirely envy Team Dreams with their nocturnal work shifts, seeing dawn break over a wide, open Central Plaza is one well-deserved reward. Steve shared the first photo above with the comment: "WOW! What a wonderful view! No Wall! No Stage. Just a beautiful view of the Castle. Enjoy!" He followed this up with further praise for our castle and a clearer critique of the poorly-integrated stage: "It's so much better without the stage. It blocked this amazing piece of architecture. WOW! What a castle!"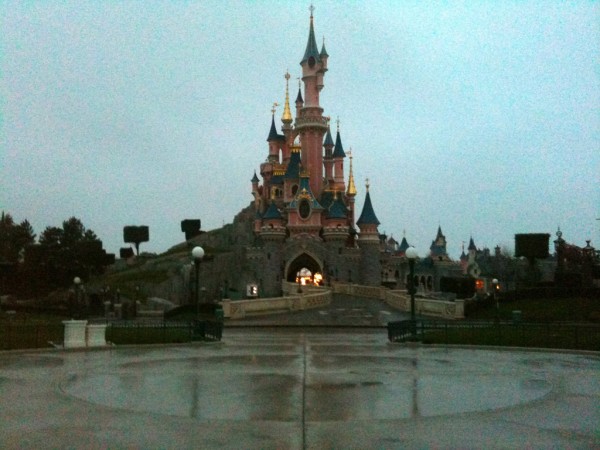 That certainly suggests we're not the only ones happy to see that back of the enormous stage, which presented three consecutive shows of varying popularity. Beginning with It's Party Time… with Mickey and Friends in 2009, it then saw the far superior Disney Showtime Spectacular in 2010, before whimpering to a close with Mickey's Magical Celebration last year. Even before those shows, the plaza was taken up by a smaller stage for the 15th Anniversary Candleabration show in 2007 and 2008, and for the castle lighting show of the previous Christmas, meaning the plaza hasn't been open for guests since as long ago as 2006.
Deciding not the reinstate the small circular flower bed in the middle of the hub was probably a wise idea for crowd control during Disney Dreams!, but does such an entirely bare Central Plaza make an ideal heart for the park? Couldn't they have done something more interesting with the floor, or is it best to just let the castle take all the presence here? Whatever your opinion, you'll no doubt at least agree with Steve Davison that the view opened up is "Simply beautiful!". We have a lot to thank Team Dreams for. Longer park hours, a real, nightly nighttime spectacular, and now a Central Plaza back to how it should be. No stage, just a beautiful view of the castle.