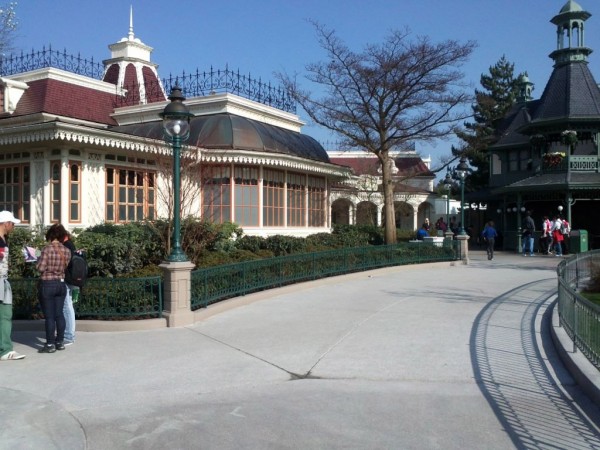 It's going to be easy to forget soon with the premiere of Disney Dreams! but, until this year, Disneyland Paris has never had a true nighttime spectacular. Fireworks from the original Fantasia in the Sky to the later Enchanted Fireworks have always been a feature, but Disneyland Park has never seen a nightly, year-round evening show to finish the day. It's a big step-change for the daily operation of the park and even the landscape is reflecting that.
On the left side of Central Plaza, the new control centre building arrived with a big change the previously wooded landscape near Frontierland, opening up more vistas. Now, on the other side of the plaza, a final adjustment has seen the pathway widened near Plaza Gardens Restaurant, creating more space for guests to hop around the crowds on the hub, or leave the park swiftly after the show.
This follows similar adjustments to pathways on both sides of the hub in 2009, when the route through to Frontierland was widened and a new set of stairs were added to ease guest flow around Plaza Gardens. At the time, these were largely to offset the problems caused by dropping a whopping great stage in the middle of the park, but this year they'll come into their own as smart preparations for Central Plaza's new role as viewing space for a real nighttime spectacular.
One final change which may not be so popular, however, is the conversion of several gas lamps along this pathway to electric. Though this kind of "progress" in Main Street, U.S.A. is never welcomed, the installation of electric light bulbs is probably a necessary change to ensure the path is well-lit before and after the show, allowing the rush of guests to arrive and leave safely. Besides, the side street nearest this spot, leading to Discoveryland, just happens to be fittingly titled "Edison Avenue"…