"Final call for the Disneyland Railroad..."
Facing the Victorian splendour of Disneyland Hotel, Main Street Station is an icon of Main Street, USA; a lavish and ornate statement of the wealth and prosperity the railroads brought to the heartlands of America.
Lines traversing the continent shipped out goods and brought in new townspeople, transforming economies — and cityscapes — in their wake. Originally just a small town square, Main Street has the railroad to thank for its rapid growth out toward the gardens of Central Plaza and the construction of the grand hotel behind.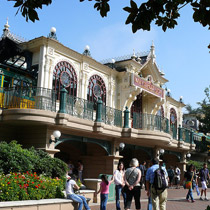 As soon as you enter Disneyland Park, the imposing facade of Main Street Station welcomes you to a bygone era. As a railroad engine steams on the tracks above, you head through the courtyard of flowers and trees and underneath the station itself, through a maze of concourses and passageways lit by thousands of small electric lightbulbs and adorned with colourful posters advertising the wonders which lie beyond.
You've stepped out onto the cobbles of Main Street, U.S.A., but there's no time to lose — the engine is blowing its whistle, the guard is announcing the "final call"! Hurry up the staircase on the East side of Town Square and onto the balcony of the station. Head past the ticket booth and take a quick read of the "Tourist Information" signs announcing special trains to the distant lands of Frontierland, Adventureland, Fantasyland and Discoveryland - also depicted in circular stained glass on the four front windows of the station.
As the final travellers board the train, take a moment to notice the details around the enclosed platform - an ornate red orchestrion for announcing arriving trains, luggage waiting to depart, red fire buckets in case of emergency. The railroads were an icon of money and wealth — visitors would judge a town by the lavish quality of its railroad station. Effort and attention to detail was therefore poured into every corner.
"All aboard!" You're on your way — steaming out of the station, headed for the majestic Grand Canyon and adventures beyond.