Non-stop transportation.
Join the hustle and bustle of turn-of-the-century life by catching a ride on one of the "modern" motor vehicles between Town Square and Central Plaza.
Travel in style in the Limousine, get around in a dash on the Fire Truck or enjoy the view from the top of the Omnibus! Each of the vehicles has its own stopping place at each end of Main Street, shown with a 'City Vehicle Stop' sign.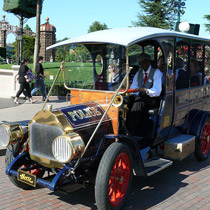 Fire Truck (12 passengers) — An authentic turn-of-the-century fire truck, in bright bronze and red colours, provides guests with an open-top mode of transport around the town. Luckily, the Volunteer Fire Dept. are never too busy in the sunny, smiling surroundings of Main Street, U.S.A.
Omnibus (35 passengers) — A truly modern mode of transport! As people have more places to go and more people to see, the Omnibus is a unique double-decker bus for so called "public transportation" around the city. You can shelter down below or sit up-top for a great view over the street. The sides are decorated with advertisements for the street's profitable stores.
Limousine (8 passengers) — Travel in the back of a personal carriage "just like the good old days"... but with a trusty gas-powered engine pulling you along!
Mercer (2 passengers) — Prefer not to join the rush of public transport? Flag down the ornate cream-coloured Mercer car and travel in style along the street for a unique journey to Central Plaza. Often used only as a prop or for character appearances.
Paddy Wagon (8 passengers) — The Paddy Wagon ensures Main Street is always smiling, collecting up the frowning criminals and hauling them off along the street! Luckily that's a very rare occurance, so the Paddy Wagon can spend its days providing unique old-timer rides for all!
A sixth vehicle, the Main Street Deliveries truck, is not available for rides but can be seen traversing the street selling refreshing beverages.