Liberty enlightening the world.
Take a stroll through this beautiful covered arcade, with ornate furnishings and a fascinating exhibition detailing the conception, inauguration and legacy of the Statue of Liberty.
The arcade can be reached via doors at either end or by Liberty Court on Flower Street. The Emporium, Disney & Co. and Casey's Corner link directly onto the walkway.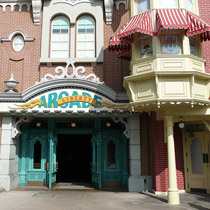 From the Eastern corner of Town Square, you step through the heavy wooden doors into the warm shelter of Liberty Arcade, a covered walkway spanning the length of the street, lit by both gas and electric, constructed with ornate ironwork displaying the statue's crowned head.
Liberty Arcade presents the story of the Statue of Liberty through historic photographs, artworks and display cases, a story which links France to the United States of America and Main Street, U.S.A. to the earlier, less lawful times of Frontierland beyond.