Trade in that scruffy appearance!
Freshen yourself up for another jolly day on Main Street with a trim and a shave in the relaxing hideaway of Dapper Dan's Hair Cuts, a classic 1900s barber shop!
How many theme parks can offer you an early 20th Century-style shave and hair cut during your day out? On Main Street, U.S.A., a living and breathing slice of small-town America in the booming early 1900s, it's all part of the show. Smiles and neatly-trimmed hair cuts are all the rage!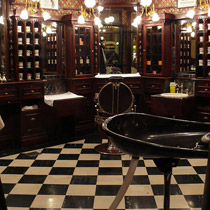 Dapper Dan's Hair Cuts offers shaves and hair cuts on most days each week — ask at the barber shop itself or at City Hall for further imformation or to book. You'll enjoy personal treatment and a moment of pure relaxation amidst the hustle and bustle on the busy streets outside — not to mention plenty of time to take in the brilliant details and hidden touches filling every inch of the dark wooden walls.
The shop dates from a time when men and women would frequent quite different places for their beauty needs. Very much a "man's" environment, Dapper Dan's is adorned with photographs of boxers and baseball players, offers men's magazines such as Police Gazette to its customers and has a charming collection of authentic turn-of-the-century shaving mugs.