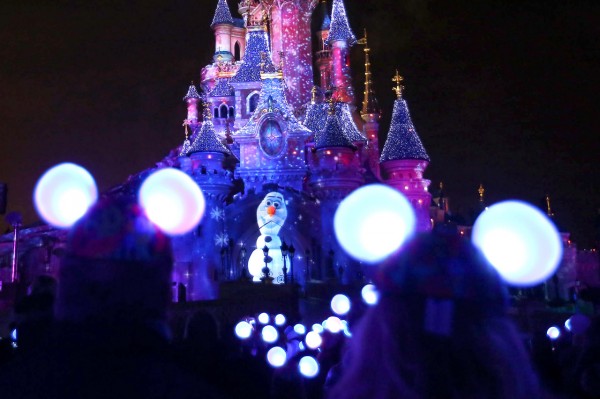 Euro Disney S.C.A. published its First Quarter results yesterday for the 2014 fiscal year, with the Disneyland Paris operating group announcing a series of disappointing drops across the board, helped only by some modest guest spending increases.
Covering the period from 1st October to 31st December 2013, the first quarter saw overall Resort revenues fall by 5% to €304.9 million, from €320.7 million in the same period the previous year. For the Theme Parks segment it was less severe, with a drop of just over 3%, while the Hotels and Disney Village saw the worst results with an almost 6% drop in revenues.

With a 9.6 percentage point decrease in hotel occupancy, equating to 51,000 fewer room nights old compared to the previous year, an increase of 6% in average spending per room might look like the only good news here. But even this rise was due only to higher daily room rates, and actually offset by lower spending on food and beverage.
In the parks, attendance decreased by 7%. Though this quarter marks the first results since the end of the 20th Anniversary on 30th September 2013, this figure must still be disappointing given the extra investments made to the Halloween and Christmas seasons, arguably now at their strongest for years. Average spending per guest increased by 4%, however, with Euro Disney S.C.A. pointing to not just higher admissions prices but (at long last) higher spending on merchandise, too.
In his standard statement, Philippe Gas, Chief Executive Officer of Euro Disney S.A.S., said:
"In a still challenging economic environment, we realized lower attendance and occupancy as compared to last year, which resulted in a 5% decrease in resort revenues. However our strategy aimed at increasing guest contribution helped us offset some of the attendance and occupancy weakness as we achieved record guest spending in both our parks and hotels for a first quarter.

Even though we remain prudent given the current economic environment, we believe the fundamentals of our business are strong and we are confident in our long-term strategy focused on investing in the guest experience. The opening of our new Ratatouille-themed attraction this summer fully reflects this growth strategy."
What appears evident, from the hotel results in particular, is that visitors are more careful than ever about how they spend their money and whether they actually get value back. For an experience like Disneyland Paris, visitors are probably more willing to splash out on a luxury like a Disney Hotel stay, even though they know the value-for-money is questionable. But only up to a point.
And after such a large initial outlay, most will inevitably then reign in spending on extras — meals, shows, merchandise — and scrutinise every Euro spent. Getting greedy with that initial booking price could mean a loss in spending throughout the entire trip. Or it could, more and more often it seems, mean that the initial hotel booking never takes place at all — another company gets the revenue and the room night — or, worst case, the visitor decides not to visit Disneyland Paris at all.
We have, at least, seen a slight shift in hotel package promotions away from huge discounts of up to 40%, which surely only eroded the perceived brand value, and towards "added value" offers like free Half Board Meal Plans or extra nights. More like this would be welcome — rather than taking Euros off a booking, why not offer that as "free" spending money in the parks on a gift card?
Could Ratatouille: The Ride be the saving grace of 2014? Intriguingly, this press release suddenly changes the wording to an opening date of "early Summer". With results like these, the sooner they can get something of that "growth strategy" on the table, the better.