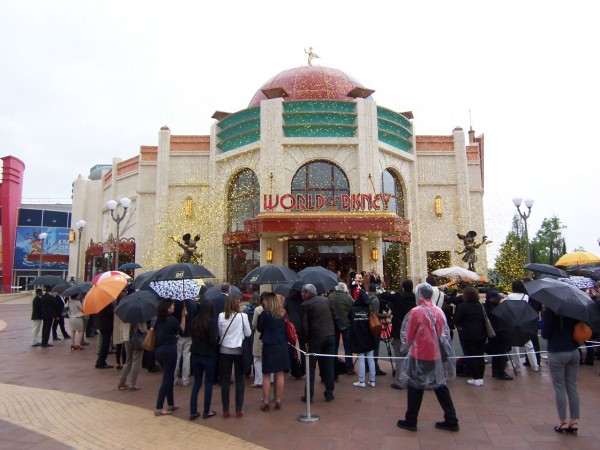 World of Disney has now completed its first full week of regular opening. The new Disneyland Paris flagship store, at the entrance to Disney Village, was inaugurated on 12th July 2012 with a special ceremony hosted by resort ambassadors Régis Alart and Osvaldo del Mistero.
Just as the colourful globe and Imagineering-designed architecture of the building itself has finally brought a true "Disney" touch to the resort hub, the ceremony saw the rare sight of Mickey, Minnie and Disney pomp in view of the RER and TGV station.
A modest but dedicated crowd of VIPs and visitors awaited the opening ceremony at 3pm, as the ambassadors, joined by Mickey and Minnie Mouse, introduced Joe Schott, Senior Vice President and Chief Operating Officer, and Pierre Monzani, Préfet of the local Seine-et-Marne area. The pair of officials, Joe Schott in less fluent but admirable French, then officially inaugurated the new store by cutting the ribbon as Régis and Osvaldo declared "World of Disney is now officially open!".
As confetti rained down, the heavens opened in perfect Marne-la-Vallée timing, coating the "World of Disney" marquee, statues and globe in a spray of golden dust. DLRP Today.com reader Maarten was there to capture the events — more photos from inside the store will follow.
Disneyland Paris also released a selection of official photos from both inside and outside the new location, showing off its sumptuous interior and beautiful nighttime illumination. The red marble-effect "World of Disney" signage truly does create a real, unique beauty of a marquee. Quintessentially American but European influenced, as all the best things at Disneyland Paris are.
Video of the inauguration by sebichou92i (YouTube) follows…
More World of Disney coverage