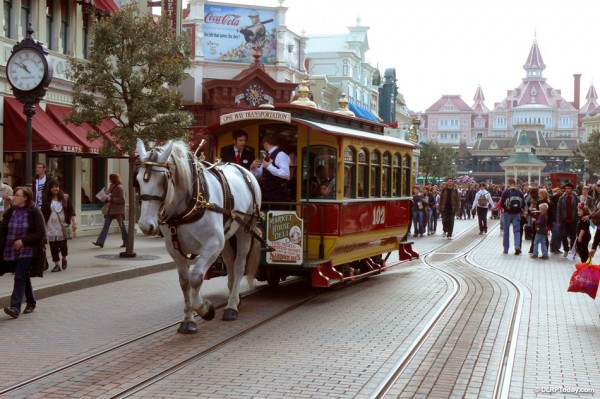 Disneyland Paris saw overall revenue growth of just 1% in the first quarter of its 2012 financial year, from 1st October to 31st December 2011. The results, published this morning by operating group Euro Disney S.C.A., make for unremarkable if somewhat reassuring reading given the economic climate. Resort revenues, for Theme Parks, Disney Village and Hotels, actually rose a good 4% in the quarter, brought down for the total figure only by lower real estate revenue compared to 2011. Park attendance itself grew a surprising 5%, due to higher numbers visiting from France itself, perhaps taking advantage of the mild late Autumn for last minute trips, with total Theme Park revenues up 7%.
Philippe Gas, CEO, comments that "improved attendance and guest spending are encouraging, especially in light of the challenging economic environment."
However, average spending per guest in the parks was up by only 1% and average spending per room at Disney Hotels up only 2%. Total Disney Village and Hotel revenues grew by just 1% and room occupancy at Disney Hotels actually fell by 1.1 percentage points. It seems that, despite continued success in getting guests through the park gates, the resort still struggles at turning these numbers into anything more than negligible increases in revenue, probably driven more by price increases than additional purchases. It has to be said that, for a visitor, the resort's casual dining fare remains largely out of date and uninspiring, while the merchandise range simply fails to engage for many demographics. At a time when a guest will consider and reconsider every additional purchase on top of their ticket, the resort certainly isn't doing badly, but it is failing to make many consequential gains.
Nor is the dip in hotel room occupancy disastrous, especially after a sharp (and perhaps, unsustainable) jump of 5.6 percentage points in FY2011. Yet perhaps it reflects a growing feeling amongst visitors that the Disney Hotels do not offer the best value for their money. High standard room rates have combined with aggressive discounting over several years to suggest that "the price on the label" may not necessarily be the price they're worth. A quick visit to any online trip planning forum will immediately bring up potential visitors merely biding their time for the next "big offer" or "flash sale" — hey, like this one! — which, while useful for propping up numbers, must surely be harming the brand value associated with Disneyland Paris. Will anyone ever want to pay full price again?
Signing off, Philippe Gas mentions only the 20th Anniversary: "In April we look forward to launching our twentieth anniversary celebrations with brand new experiences for our guests, including the Disney Dreams®! night-time show, an innovative light and color spectacular. It will also be
an opportunity to celebrate a two-decade journey with our cast members, our guests as well as our key public and private partners who have helped Disneyland Paris become Europe's number one tourist destination." Meanwhile the footnotes include only the same passing mention to the launch of a "multi-year expansion of the Walt Disney Studios® Park, which includes a new attraction." So, despite construction having begun, no Ratatouille dark ride announcement yet; and all eyes on the 20th…