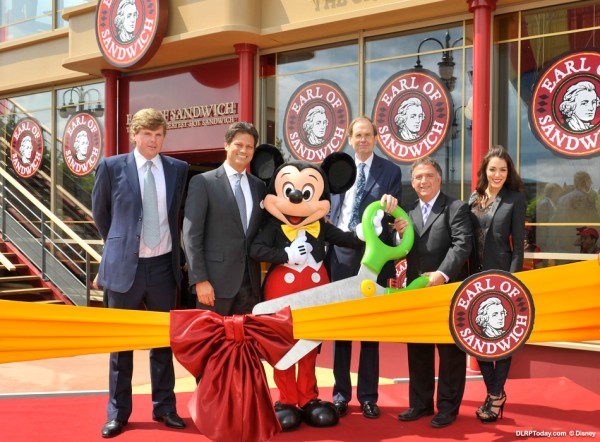 It's almost a month since Earl of Sandwich grabbed a slice of the fast food action in Disney Village, bringing an ample selection of freshly-prepared hot sandwiches to the banks of Lake Disney. The restaurant, the chain's first in mainland Europe, was officially inaugurated back on Wednesday, 15th June with Euro Disney CEO Philippe Gas, Planet Hollywood founder Robert Earl (second from right) and the 11th Earl of Sandwich himself, John Montagu (third from right). A predictably oversized ribbon and scissors were brought out for the occasion.
So far the restaurant already appears to be earning a loyal following of European fans, with many positive remarks for service, taste and the design of the new building. One negative, though is for the price of drinks: with a 500ml bottle of Coca-Cola at €3.50 they've managed to make the €2.60 normally charged by Disney seem like a steal (although a 400ml cup is available for €2.50). For a family, it soon makes a reasonably-priced sandwich into a rather expensive fast food meal.
You can find the full Earl of Sandwich menu on our Restaurant Menus pages, which has also seen the menu for the nearby New York Style Sandwiches updated. In response to the new competition, this small Disney-owned eatery has changed its focus away from hot paninis to pizza and pasta.
What are your first impressions of the Earl? Got a favourite sandwich from the 16 on offer yet?