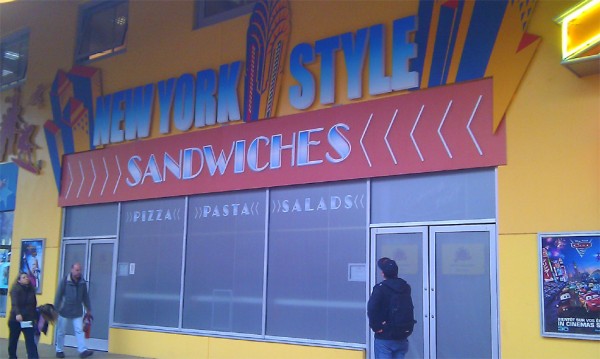 Is Disney Village seeing the first effects of Disney recently taking back control of some restaurants previously run by an outside company? The small New York Style Sandwiches shop, positioned between the Sports Bar and The Disney Gallery, closed on Monday 3rd for a refurbishment that will last until Friday 21st October. The windows have been completely covered over during the works. It's currently unclear how big the changes will be: whether this is simply a freshen-up to get things back to Disney standards, or if changes could be on the way to the rather tired venue, previously operated by Groupe Flo along with Café Mickey, The Steakhouse and Annette's Diner.
Opened in 1992 as Carnegie's Deli with full table service, it was renamed after just a few years. In May this year, it gained some hefty competition from the new-build Earl of Sandwich just across the way and subsequently altered the focus of its menu away from sandwiches to pizza slices and other Italian-American snacks. Curiously, the signage notifying of the current closure (captured here by Mouetto on Disney Central Plaza) uses the New York Style Sandwiches logo but in its text calls the location by a new name: "New York Deli". With the Earl now having the Village's hot sandwich market wrapped up, will Disney further reposition the shop to offer greater variety?
This follows a major refurbishment of the Disney Fashion store nearby in June, which saw the formerly dull outlet gain a more quirky "boutique" feel. Of the retail units in Disney Village — notably Disney Store, Hollywood Pictures and World of Toys — that store was the least likely to effectively be made redundant by the opening of World of Disney next year, perhaps calling for an even bigger rethink of the offer along this side of the street, which has long been somewhat uninspiring.