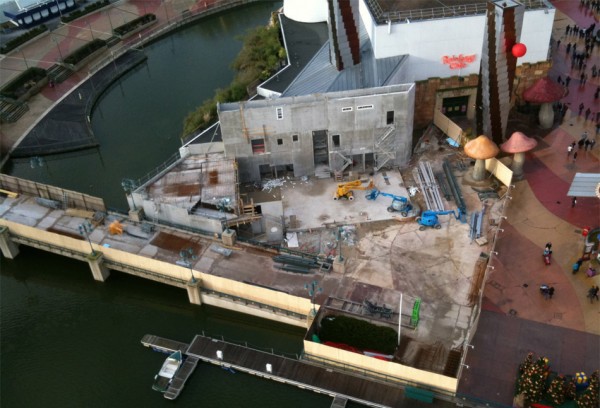 Just months remain before the projected May 2011 opening of Earl of Sandwich in Disney Village and although things are still looking a long way from completion at the construction site on the edge of Lake Disney, big progress is being made now that the building foundations are complete. In the latest photo above, from manuchao on Disney Central Plaza forum, the huge back "core" of the new counter service restaurant can now be seen at its full height and the raised outdoor terrace, built on land reclaimed from the lagoon, already taking shape.
It's expected that the ground floor of the rear terrace will house the kitchens and service areas of the deli sandwich chain, whilst the towering rear wall will likely support an elevator, stairs to the first floor mezzanine and amenities such as toilets. Much of the other three walls will be glass and steel, offering a view out over the lake. Earl of Sandwich, founded by the actual 11th Earl of Sandwich, a descendant of the 4th Earl who popularised the sandwich in Great Britain, currently has 13 locations in the United States and is investing over €5 million in this, its first European branch.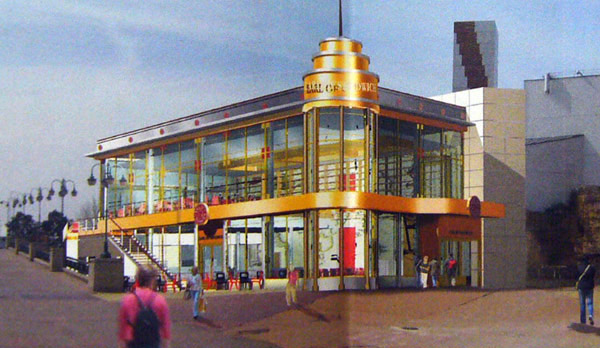 Following several years of rumours, the restaurant was finally revealed in December 2009 and broke ground at a special ceremony with the Earl himself in June last year. With construction walls advertising the opening with a clever "The Sandwiches are Coming!" pun, it is hoped the location will breathe much new life into counter service dining at Disney Village — and perhaps the wider resort — with an emphasis on fresh, healthy, good quality food and, if the restaurant over at Walt Disney World in Florida is a template, some very competitive prices.