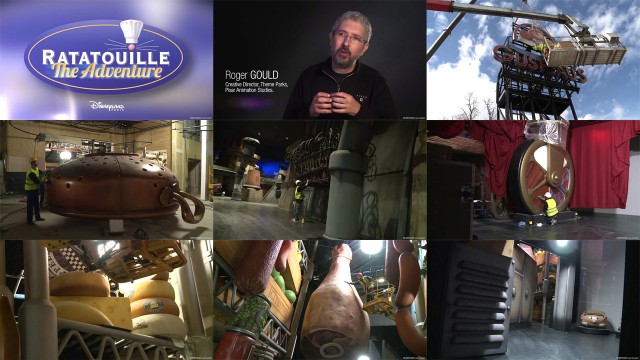 Beyond the all-important date (10th July if you haven't managed to catch it yet), Disneyland Paris more than exceeded anticipation for yesterday's rumoured Ratatouille: The Adventure announcement by including a little video teaser alongside. Well, perhaps "little" isn't the word.
Because despite running to just 1 minute 3 seconds, for the first time ever the video reveals a number of glimpses inside the huge new Ratatouille showbuilding, allowing a look at the attraction's physical scenery, giant props and even trackless ride vehicles. The emphasis being on giant: everything is giant.
Tom Fitzgerald, Creative Executive at Walt Disney Imagineering, and Roger Gould, Creative Director Theme Parks at Pixar Animation Studios, lead the commentary to enthuse about Ratatouille: L'Aventure Totalement Toquée de Rémy, as Tom names it, with a smile.
After seeing the huge Gusteau's restaurant sign being lifted into place atop the building, we get a series of blink-and-you'll-miss-em peeks inside the ride's actual show scenes. There's the rooftops of Paris load unload area with giant chimney pots, the cold storage with a giant fish, and the dining room with giant trolly wheels.
Towards the end, we even see a real, finished "Ratmobile" ride vehicle for the first time ever. And just to add extra intrigue, perhaps, it's brown, not grey/blue.
There's spoilers aplenty, of course — but don't forget that the physical scenery and props we see here are just the "base layer" of this trackless, 3D projection-filled dark ride. It won't look like this when you're riding through it, with 3D glasses plus finished lighting and animation, so there's a lot left unseen and a lot that will only ever be possible to see in person.
Watch the video now, then scroll down for 23 screencaps and extra commentary… Read More…