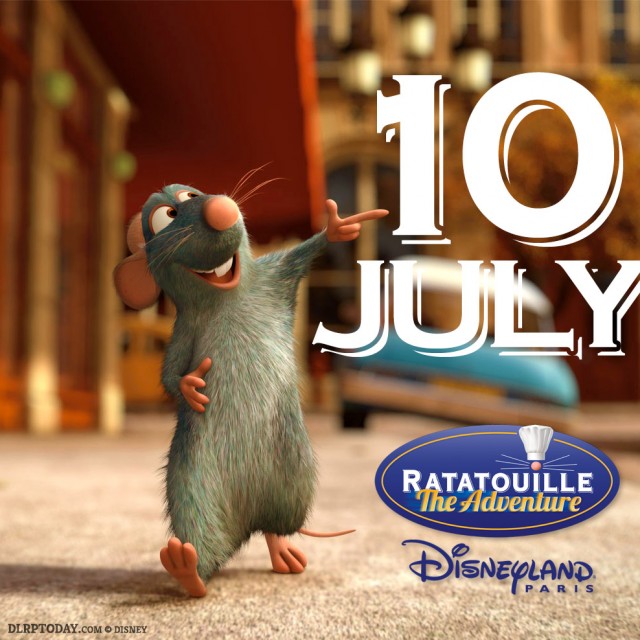 Disneyland Paris has just announced the long-awaited opening date of Ratatouille: The Adventure – L'Aventure Totalement Toquée de Rémy: Thursday, 10th July 2014.
Sensibly, the resort has chosen a date just slightly in advance of the official French national day — Bastille Day on Monday 14th July — to officially inaugurate the huge new dark ride and restaurant in Walt Disney Studios Park.
From 10th July, guests will officially be able to enjoy the attraction and its adjoining restaurant, Le Bistrot Chez Rémy, in Toon Studio at the second park.
However, this will likely follow a traditional period of "soft opening" lasting as long as a few weeks, during which time Disney's newest E-Ticket attraction will be opened to guests for limited trials to test and adjust any operational or technical bugs.
The date of 10th July has only recently been associated with the development, which up until now has steadfastly been promoted only as opening vaguely in "Summer 2014".
Most rumours pointed to 14th July being the most appropriate date, but it's likely Disneyland Paris decided the Thursday before what will be an incredibly busy Monday, with the parks already at saturation, is a more sensible operational choice.
The announcement was made with a brand new teaser video, below…
Along with the all-important date, for the first time ever the video reveals a number of glimpses inside the huge new Ratatouille showbuilding, allowing a look at the attraction's physical scenery, giant props and even trackless ride vehicles.
• New follow-up article — See a complete compilation of all the sights, spoilers and sneaky peeks from the video in 23 stills plus commentary – click here