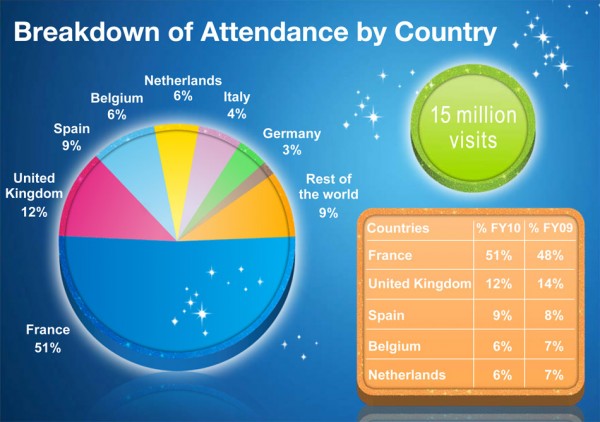 Which countries were the biggest visitors to Disneyland Paris in 2010? Last week's AGM presentation was published online this morning and includes the exact percentages for the past year, showing an interesting shift in where those 15 million visitors are travelling from. Here's the big news: For perhaps the first time in the resort's history, more than 50% of visitors came from France itself — a huge 51%, to be precise. This seems to show a big boost from the resort's home country, but may hide continued falls in attendance from surrounding countries. Back in 2002, for example, the percentage of visitors from France was just 40%, whilst an impressive 21% of visitors had travelled across the channel from the United Kingdom. In 2010, that figure has dropped dramatically to just 12%, perhaps the lowest percentage of British visitors ever, after falling from 20% in 2006, 18% in 2007, 16% in 2008 and 14% in 2009 — a worrying trend of falling visitor numbers every year for the past five years now.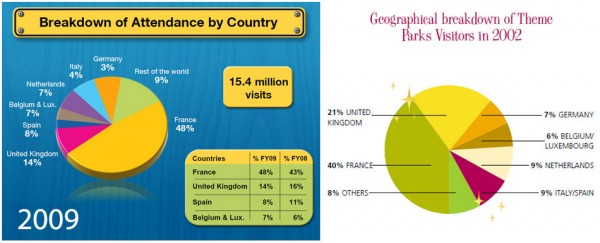 Visitors from the Benelux meanwhile have remained relatively steady in percentage terms over the past decade, with Belgium and Luxembourg making up 7% of visitors in both 2010 and 2009, having been recorded at 6% for 2002 and 2006. The Netherlands appears to have experienced a slight drop in prominence, at 7% of visitors for 2010 but previously having made up 8% in 2006 and 9% in 2002. One big success for Disneyland Paris in recent years has been in attracting more guests from Spain, but even here the draw appears to be waning. Back in 2002, Spain was even combined with Italy, for a total 9% of visitors, but by 2005 had attained this number all by itself. Spanish visitors appeared to reach their peak in 2008, making up 11% of guests, but this dropped to 8% in 2009 and 2010. Finally, visitors from the rest of the world have remained steady at 9%, having stuck at that percentage for the past decade (though Euro Disney SCA claims an increasing demand from visitors of further afield for 2010).
But wait — we're forgetting somewhere. Making just 3% of visitors in 2010, Germany is at risk of barely even registering on the figures. This German market has dropped consistently for the past few years — from 4% in 2006, 5% in 2005 and 7% back in 2002 — despite being a wealthy country of 80 million where Disney is as popular as anywhere, with several big theme parks of its own. Those successful parks might be part of the problem, as might the lack of a direct Eurostar-style link, but surely this should be a bigger market for the resort. Back in 1992, it seemed to be expected that Germany would be right behind the UK as one of the biggest visitors. So, what's keeping Deutschland away from Disneyland?