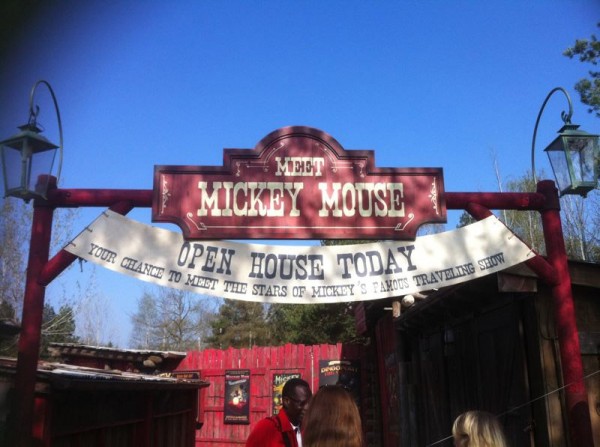 It's no secret that the permanent Meet Mickey Mouse attraction at Fantasy Festival Stage won't be ready for the 20th Anniversary launch this weekend. However, you needn't be too disappointed if you miss the opening date in mid-May: Mickey's temporary Frontierland location is looking like a pleasant attraction of its own. Rather than the 1920s picture house-style theme in Fantasyland's British quarter, the temporary version has been based around a much more old-fashioned travelling show.
New signage, installed at the former Woody's Roundup Village photolocation, is perfectly integrated with the Cottonwood Creek Ranch area. Below the Meet Mickey Mouse marquee, adorned with decorative lights, a banner reads: "Open house today — Your chance to meet the stars of Mickey's famous traveling show". Red-painted fences of the farm paddocks are dotted with posters imported from Florida, for imaginary acts such as "Dingofort the Mighty" and "Madame Minn", which already appear in the refurbished Disney & Co boutique on Main Street.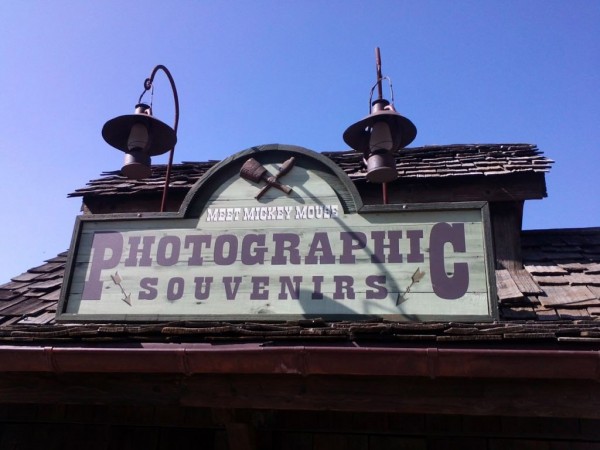 Nearby, the old Woodcarver's Workshop has been turned into Meet Mickey Mouse Photographic Souvenirs, an official photo sales desk. Given Mickey's farmyard beginnings, the temporary ranch setting feels perfectly apt, before he moves into the bright lights of the theatre.
Mickey Mouse himself made his first appearance at the location today, moving from his old meet 'n' greet spot at the Boarding House in Town Square, which will now be the sole preserve of Duffy the Disney Bear. The temporary location here is only expected to be in use for around 6-7 weeks so, for just a month and a half of meet 'n' greets, this well-executed overlay is a great surprise.